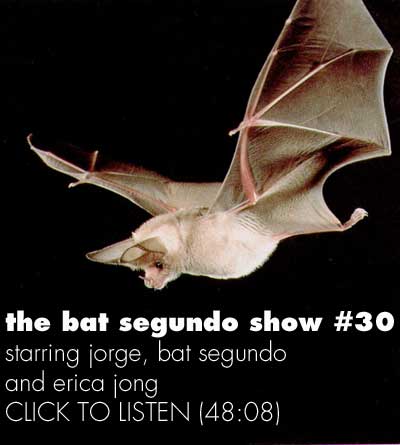 Author: Erica Jong
Condition of Mr. Segundo: Taking care of fish-related housekeeping.
Winner of Philosophical Contest: John Barlow
Subjects Discussed: Maintaining a conversational and confessional tone, finding a voice, being known for Isadora Wing vs. poetry, Pablo Neruda, the current status of poetry, on sleeping with Martha Stewart's husband, personal mistakes, why Jong wrote about Andy Stewart, sexism in the publishing industry, Dan Brown and The Da Vinci Code, Opus Dei, reader misconceptions of Fear of Flying, the chick lit ghetto, Jennifer Weiner, Molly Jong-Fast, on the lack of serious reviews of women's fiction, the 1970s publishing environment vs. the 2000s publishing environment, the gender gap in literary fiction and the Canadian loophole, Mary Gaitskill, Brokeback Mountain, Annie Proulx, Kelly Link, American vs. international reputation, literary trends over the years, writing Toni Morrison her first fan letter, and Erica Jong the closet linguist.
© 2006, Edward Champion. All rights reserved.