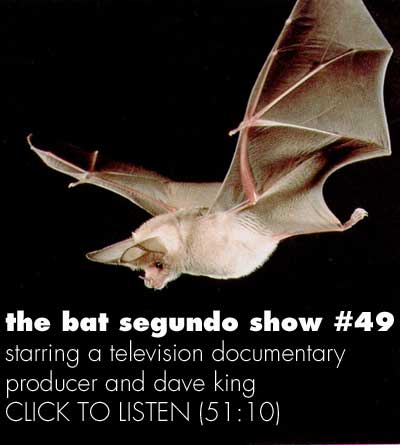 Author: Dave King
Condition of Mr. Segundo: Unknown, replaced temporarily by a shady documentary producer fulfilling a contractual obligation.
Subjects Discussed: Modeling, painting, making a transition to writing, ambition, disabilities, self-help, italicized words, iambic pentameter, sincerity in an age of literary realism, Richard Yates, the early ending to The Ha-Ha, getting The Ha-Ha published, Vietnam and war, Tim O'Brien, cities as reference points, conformity vs. uniqueness, sincere language co-opted by Hallmark, Matthew Sharp, the semantics of symbolism, Americans and passports, on being skeptical about self-improvement, A Clockwork Orange, Akiva Goldsman and the Ha-Ha film adaptation.
© 2006, Edward Champion. All rights reserved.