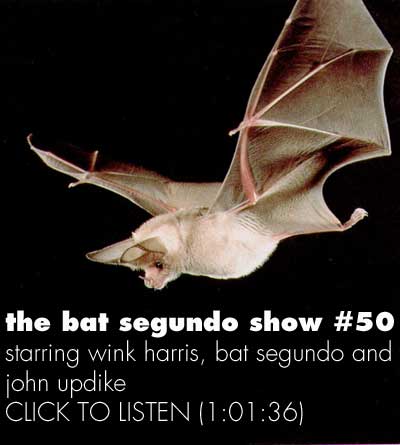 Author: John Updike
Condition of Mr. Segundo: Defending himself against obnoxious talk show hosts and ready to move on.
Subjects Discussed: Epigraphs, faith and disbelief, starting Terrorist with a Catholic priest, first person vs. third person, on writing upon Americana, post-9/11 symbolism, humanism vs. pessimism, blow jobs, Christopher Hitchens, the state of the September 11 novel, Norman Mailer, Neil LaBute's The Mercy Seat, applying "On Not Being a Dove" to Iraq, airport X-ray machines, external sexual imagery vs. internal emotion in prose, why Updike concentrates on explicit anatomical detail, Goths, language, challenging Updike on the BEA speech and the Internet.
© 2006, Edward Champion. All rights reserved.