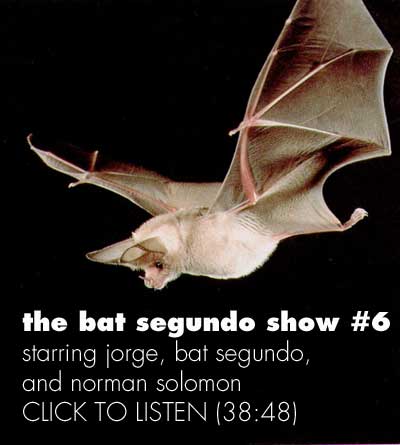 Approximate Date: An evening in the Mission in mid-August, 2005
Author: Norman Solomon
Condition of Mr. Segundo: Lonely, wistful, about as romantic as Mr. Segundo is capable of.
Subjects Discussed: The relationship between government policy and media, the U.S. government as advertising model, war as product, Charlotte Beers, the element of casualties, use of the flag, "We're Number 1," criticizing government without having access to national security documents, the relationship between raw war coverage and antiwar sentiment, transformation of media and propaganda over the past forty years, new media vs. old media, bloggers, Matt Drudge, journalists who face retaliation for war coverage, Laurie Garrett's resignation letter, wild reactions to Solomon's work, examples of good journalism, the American public's interest in foreign affairs, Jim Hightower and Disney, Donald Rumsfeld and Esquire, 9/11 and "Fortunate Son."
© 2005, Edward Champion. All rights reserved.