Laura Lippman appeared on The Bat Segundo Show #280.
Laura Lippman is most recently the author of Life Sentences.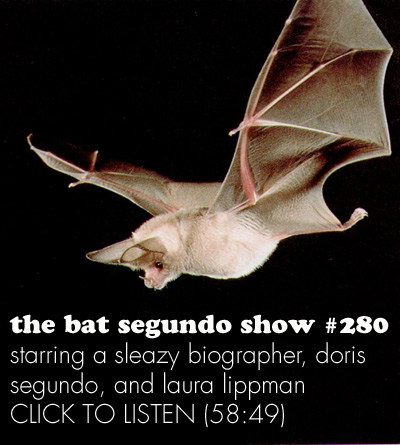 Condition of Mr. Segundo: Frightened of sleazy and opportunistic biographers.
Author: Laura Lippman
Subjects Discussed: Cassandra Fallows vs. Kathryn Harrison, writers with peculiar personalities, the memoir dictating the memoirist, Hegelian synthesis, the Quarter Pounder and Proustian comparisons, philosophical modifiers, the inauthentic self, stereotypes of NPR listeners, book smart vs. people smart, satire and gentle fun, shaking the "serious is better" notion, Thomas Pynchon, being true to voice, the problems with the word "ballsy," writing effrontery, Janet Maslin's overanalysis of Life Sentences, the value of the red herring, the benefits of found opportunities, the problems with plans, Portnoy's Complaint, creating deflections for the reader, the Oz books and the Nome King, Philip Roth's Zuckerman, overworking sentences, the joys of dashes, Emily Dickinson, smarmy memoirs, reading the entire book aloud at 40 pages per day, writing a book a year, following instructions, William Gibson, editing as "deboning a fish," Lippman's work ethic as a saving grace, racist perceptions, generalizations, and the older generation in Baltimore, the fallibility of memory, the purpose of memoir, Ann Patchett's Truth and Beauty, making stuff up, basing a novel on true crime, the ethics of taking from real-life stories, responding to email, investigative journalism and amateurism, faking it, and losing sight of the victims over the course of fiction or investigation.
EXCERPT FROM SHOW: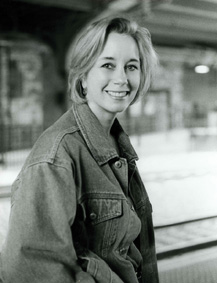 Correspondent: You have, of course, Callie-ope — Calliope — and Cassandra. I read Janet Maslin's review in the New York Times and she seemed to be really hung up on the notion that this represented some Greek mythology. But when I read your book, I immediately said to myself, "Oh! Well, this is a very funny red herring to throw the reader off." Just as the dates that precede each particular section have no significant meaning, or very little meaning, on the narrative. And I'm wondering if little red herrings along these lines are intended to either see if the critics of the Janet Maslin streak are going to latch onto them or whether they represent a way for you to obtain this level of "just doing it" that you just described in your last answer.
Lippman: It is true that both Cassandra and Calliope show up in the narrative, show up in my writing, with their names attached to them. I did not sit down and schematically design a story in which, yes, I will create two characters named after classic figures of Greek mythology. Cassandra was Cassandra. And then I realized her father was a Classics professor, and I began to think he would have conveyed. And Calliope was just always Calliope. There's a certain Baltimore-ness to it. But I'm a really big believer in found opportunity. And sometimes writers create their own found opportunities. So it's an accident that the two main characters of this novel have these names that have a lot of resonance. But I'm okay when people then see the resonance and point it out. It's like someone at a painting and focusing on a detail that might not have been the intent. But it's in there. It is there.
My belief is that if one is overly schematic in writing, it will feel a little stale and airless. So on the one hand, I'm delighted that people come to this and say, "Oh! Cassandra and Calliope. There's all this significance." Well, there is for them. They found it and it affects the way they read the story. And that's great. At the same time, I think that if I had had a plan, I think the novel would have a really contrived feeling to it. I think it would feel kind of pedantic. One of the things I didn't plan. You know, it just comes out. You're writing. I write trying to think about who is this person and what would they be doing and what would they be thinking at this moment. And there's a scene in which Cassandra has sex with someone who she's really been yearning for. And because Cassandra can't turn her head off ever, she's thinking and thinking. And for some reason, she starts thinking about Leda and the Swan. Which if people are really paying attention, and they've seen the bit about Portnoy's Complaint in the book, that's very important in Portnoy's Complaint. So Cassandra, whether she knows or not, is actually channeling that book that she read as a kid, which she remembers seeing in her father's house.
So I'm writing this. And, you know, I don't remember every line of Leda and the Swan! And, by the way, although I'm pretty well versed in Greek mythology, I didn't remember that Leda gave birth to Cassandra. I didn't remember that. So I go back and I read the poem and I just think, "Oh my god. That's hilarious!" And if I had planned it. If I had been writing to that moment steadily for days and days — "Oh, I can't wait until the moment in which Cassandra evokes her namesake's mother. Via Yeats in bed." — I think it would have felt a little off.
BSS #280: Laura Lippman (Download MP3)
This text will be replaced