Weird Al Yankovic appeared on The Bat Segundo Show #418. His most recent album is Alpocalypse. Many thanks to Jay Levey for helping to make this unlikely conversation happen.
Listen: Play in new window | Download
Condition of Mr. Segundo: Got skills, he's a champion of D&D.
Guest: Weird Al Yankovic
Subjects Discussed: Whether most people in the world are doing okay, Weird Al's longevity, a fastidious concern for the English language, Weird Al as a storyteller, epic songs, writing about human behavior vs. writing about food, thinking of new ways to be funny, narrative songwriting, parodies in which words are transposed, Freytag's triangle, recording dates, why original songs and style parodies are recorded for explicit parodies, trying to finish an album while responding to present a musical trend, how Al studies an artist's oeuvre, earlier songs as prototypes for later songs, "One More Minute" to "You Don't Love Me Anymore," "It's All About the Pentiums" to "White and Nerdy," confronting the defects of earlier material, the number of lists that Al keeps, when your laptop is more organized than your life, Amy Winehouse, keeping up with the increased cycle of emerging artists, the Arcade Fire and Muse, Weird Al's criteria for selecting hits to parody, finding number one hits despite the rise of Internet culture, rap and polka medleys, attempts to break into long-form film and television, UHF, parts in movies that Al turned down, clearing up several suggestions made by the critic Sam Anderson, whether a gang of barbarians will delete the Internet to the ground, efforts to clarify Weird Al's vegetarianism status amidst recent self-allegations of cheating, spouses who salivate in response to billboards depicting prime rib, not forcing children into a specific dietary direction, Matt Stone's tendency to eat junk food, references to bowling in Weird Al's work, Robert Putnam's Bowling Alone, watching 100 episodes of The Flintstones for "Bedrock Anthem," whether intense research gets in the way of spontaneity, fake educational films, the Prelinger Archive, responding to charges that Al is "a parasite of ubiquity," "Dare to Be Stupid" and The Transformers, Michael Bay, digital distribution, maintaining a long-term legacy, the accidental iconic nature of songs, Nirvana's "Smells Like Teen Spirit," Mick Jagger, Weird Al's confidantes, how Weird Al listens to music, including burps and other delightful gastrointestinal sounds in songs, avoiding profanity in work, Shel Silverstein's "Get My Rocks Off," the pros and cons of being family-friendly, Radio Disney asking Al to change lyrics in "The Saga Begins," Nickelodeon asking Al to remove "gay," why doesn't Weird Al always call the shots, art vs. commerce, lines that Weird Al won't cross, multiple versions of "The Night Santa Went Crazy," choosing edgy animators for music videos, John Kricfalusi and the "Close But No Cigar" video, why there isn't an Al TV installment for Alpocalypse and why these haven't been released in video, taking advantage of blanket waivers, why Al took so long to sit in the producer's chair after Rick Derringer, "Don't Download This Song," applying mainstream cultural values to hip-hop, whether "I'll Sue Ya" props up reactionary values, unanticipated advocacy of the status quo, tort reform, Hot Coffee, attempts to keep songs non-political, fans who defaced the Atlantic Records Wikipedia page, the consequence of words, political groups who made Weird Al as a poster boy for tort reform, donating proceeds of songs to charity foundations, morality and the gray areas of parody, the breakdown of revenue, contemplating the end of albums, digital distribution, whether Weird Al will reinvent himself on schedule on January 24, 2018, William Shatner's "Bohemian Rhapsody," Has Been, playing the camp card, how Weird Al has stayed sincere over the years, and "Since You've Been Gone."
EXCERPT FROM SHOW:
Correspondent: Weird Al, how are you doing?
Yankovic: I'm doing well. Thank you for asking. Yourself?
Correspondent: Oh. I think I'm doing okay.
Yankovic: Good. I'm glad to hear that.
Correspondent: I'm glad we're on the same page.
Yankovic: I'm glad we're all doing very well.
Correspondent: Do you think everyone's doing okay in general?
Yankovic: In the world? Probably not.
Correspondent: Okay.
Yankovic: If you go with the percentages, there are certainly some people in the world who are not doing well currently.
Correspondent: Yeah. I hope you don't mind. But I may have to — well, actually I will. I will start this off on a tenebrous tone. We're talking about a year of heavy losses. We have seen the end of REM. The end of the White Stripes. The dissolution of the marriage of Kim Gordon and Thurston Moore. And I look to you, Weird Al, and I say to myself, "Wow, this guy's been in business for 28 years. He's had the same manager. The same band." How do you do it, Al?
Yankovic: Yeah. Everybody's wondering. When is Weird Al going to break up?
Correspondent: Yes.
Yankovic: And I don't know. I keep waiting for my limbs to fall off. It just hasn't happened.
Correspondent: Really? Really? Your mind perhaps?
Yankovic: You know, I have actually had the same band from the very beginning. Which in rock and roll terms is pretty unheard of. But I just still enjoy doing what I'm doing. And apparently the world at large hasn't gotten completely sick of me yet. And the people that I work with still enjoy working with me. So it just seems to have all worked out. It's pretty ironic. Because a career like mine, historically speaking, should not have lasted more than a few months. And here I am still.
Correspondent: Well, how do you avoid the fights and the fractiousness? Or is it all very carefully concealed so that the public doesn't know about how dangerous things are backstage?
Yankovic: Well, I've got incriminating Polaroids of everybody in the band and crew.
Correspondent: Oh, I see.
Yankovic: If they don't want them in public, I'll play nice.
Correspondent: I've detected a fastidious concern for the English language in the course of my research. There was, of course, the infamous 2003 interview with Eminem that you did in which you corrected his triple negative.
Yankovic: Yes indeed.
Correspondent: But also, in an interview with Nardwuar, who I like quite a bit, you actually repeated "Otis Wedding's Riffs."* Where he said that to you. And you were very
Yankovic: Don't remember that. Otis Wedding…what?
Correspondent: He said to you, "Otis Wedding's Riffs." And you corrected and repeated that back to him.
Yankovic: Oh.
Correspondent: But the point I'm trying to make here, Al, is why, in an age of increasing illiteracy, would you be concerned with such quaint things as English grammar?
Yankovic: I don't know. You pick your battles, I guess. I mean, I'm one of those kind of guys — you know, I will not ever text the letter U instead of writing out "Y-O-U."
Correspondent: Oh yeah?
Yankovic: I am not Prince and I'm not a 13-year-old girl.
Correspondent: You're not Prince? I'm getting out of here.
Yankovic: Oh, sorry. Sorry. Waste of time. No, I don't know what it is. It's kind of a knee-jerk reaction. I mean, I just enjoy the English language and several other national languages as well. So I prefer not to bastardize it.
Correspondent: Does it relate to your increasing need for precision in your audio, in your shows, in your songs…
Yankovic: It's probably an extension of my whole OCD, anal retentive, compulsive control freak personality.
Correspondent: You're a control freak. Well, how so? How do you keep it at bay? Because you have to work with people.
Yankovic: No. I mean, it's not obnoxious. Or at least, if it is, people aren't telling me about.
Correspondent: Oh, I see. You have handlers to prevent people from getting the truth.
Yankovic: No. But I mean, I work with people who understand that what I do is very precise. When we do parodies these days, we're trying to emulate a sound exactly. And I don't have to crack a whip. Everybody in the band knows. They know what we're looking for. And they're as OCD as I am. They're very fastidious about getting it exactly the right sounds.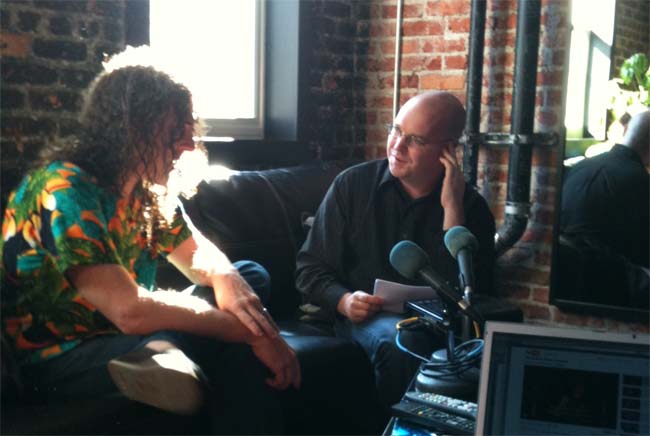 Correspondent: I want to ask you. Two recent songs, as well as your children's book, suggest that what you're really working toward more as an artist is storytelling. I'm thinking of "Skipper Dan" on this latest album, which transcends the Weezer style parody to become this really harrowing tale about this poor man. This guide. As does "Trapped in the Drive-Thru," where it isn't really about the R. Kelly parody after a while. You listen to it and you say to yourself, "Wow, this thing's going on for eleven minutes. And I'm not conscious of it."
Yankovic: (laughs)
Correspondent: Which is kind of a carryover from "Albuquerque" from the album before. These songs seem to me more about human behavior than your typical obsessions with TV and food and the like. And I'm wondering if these are efforts to get away from the fact of "I'm stuck in parody and I'm stuck of having to replicate things." And also, in contrast to things like "The Saga Begins" and "Ode to a Superhero," which are really just cultural retellings of what we already know. I'm more interested in this new Al that's talking about human behavior. Are we moving towards that? Are you consciously trying to move?
Yankovic: Well, it's not conscious or calculated. But I'm always trying to think of new ways to be funny. Because I get stuck in ruts sometimes. Like in the '80s, I wrote a lot of songs about food. And that was pointed out to me by a number of people for a few years. And then I wrote a lot of songs about TV. And currently I think I'm stuck in an Internet/nerd culture era where I'm writing a lot of songs about that. Because I surf on the Internet for a disproportionate amount of time per day. And you write what you know about. But I'm always trying to figure out different ways to be funny. And the nerdom style is a classic way of being funny, of telling a joke, doing a song. I'm a big fan of all those narrative songs from the '70s. Like, you know, Gordon Lightfoot and Harry Chapin and things like that. And every now and then, I'll throw a song of that ilk. "The Biggest Ball of Twine in Minnesota" is something along those lines as well. Again, I try to mix it up and be eclectic. And I wouldn't want to do all narrative songs. But every now and then, it's nice to throw one in there. Because people like a good story.
Correspondent: Well, why not? What's so wrong about these really quirky behavioral narratives that we're talking about here? I mean, why not more of those? The problem here is that, when you think of something like "I Want a New Duck," well, that whole humor thing comes from transposing "drug" and "duck." And it doesn't always work. Although in the case of "Trapped in the Drive-Thru," which I think is epic and wonderful, that just transcends the parody. What of this conundrum?
Yankovic: It really depends from song to song. "Trapped in the Drive-Thru" — I mean, the reason I wrote that particular narrative was because I figured I needed to do something with the R. Kelly song. It was such an iconic song. It was such a big part of the zeitgeist at the time that, you know, what can I do with this? Because it's already pretty much about as ridiculous as it can possibly be. Kind of the same problem I had recently with Lady Gaga. How do you go a step above? So instead of even attempting that, I decided to go the other direction and make the song as banal as possible and do a very dramatic, a melodramatic eleven minute song where basically nothing happens. So that was my challenge there. To try and keep a compelling narrative and still have the story be pretty much about nothing.
Correspondent: But I would argue that actually is about something. Because it subscribes to Freytag's triangle. You have escalating conflict from absolute banality.
Yankovic: Yes.
Correspondent: So as a result, I would say, "Well, despite the fact that he tried to bore the tears out of the audience, you're absolutely hooked on every consequential step forward!"
Yankovic: Very much like Waiting for Godot or Seinfeld.
* — Yankovic scholars may wish to consult the source to determine if indeed Our Correspondent has his facts correct. Additionally, one word has been uttered throughout this program exactly 27 times.
The Bat Segundo Show #418: Weird Al Yankovic (Download MP3)
This text will be replaced