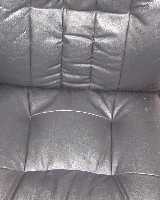 We are pleased to report that the chair that was wounded during the course of engineering The Bat Segundo Show #16 has been replaced. (We had sentimental attachments for that chair, but it had a solid six year run and it was probably due for a replacement anyway.) The new chair is a large and quite comfy leather chair that we almost fell asleep on yesterday evening. Further, this chair has a five year warranty and reliable casters to boot. In short, the upshot here is that the chair's comfort and durability (to say nothing of its easy assembly) will likely fuel us for quite some time. (To give you a sense of how nifty this chair is, when you stand up, the cushion emits a noticable whoosh, as if to suggest that it's had your bottom's interest at heart all along. How many chairs have the courtesy to do that?) So expect a new Segundo podcast (or two) in the week. We assure you that these are some pretty exciting interviews. Also, Mr. Segundo has been located and he will explain his disappearance in Segundo #17.
Further, we cannot say enough good things about Rupert Thompson's Divided Thompson, which kept us up until 3:30 AM the other night. While we're not yet finished with it (though close!), we're thinking that it might have made our Top 10 List had we read it earlier in the year. If you like your dystopian spec-fic novels sprinkled with goofball humor (we're talking surfing and pole vaulting, peeps!) and a strange obsession with curlicue imagery, then we whole-heartedly recommend it.
We've also dug our claws into Black Swan Green and will have some things to say about that in the emerging week (though, to be perfectly clear, not a review!). Our immediate impression is that this so-called "departure" is probably the right thing for our man, David Mitchell, although we'll say more once we've reached the apex.