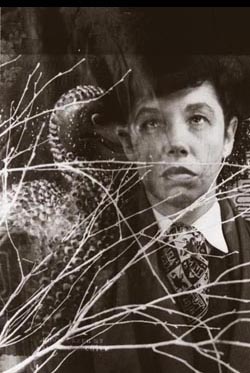 It has been suggested by at least one prominent mortician that the Almanac's staff has been dead for the past week. Well, the moribund undertaker in question was partially correct. Hans Campbell, our lead researcher, passed away on April 30, 2010, the victim of an unanticipated embolism experienced while putting together that day's entry. He died at his desk — the way that any good researcher should. And it isn't every day that you can claim to shake hands with a man who has the bad luck to die on the same day that Hitler blew his brains out (sixty-five years ago, if you're as interested in the math as we are!). We here at the Almanac promise to not fuck around with a Walther PPK on a shooting range. We have given our small supply of cyanide tablets to a frenemy's great aunt. So let the similarities between Hitler and Hans (or "HC," as we nicknamed him in the office) end here. However, should anyone wish to make a Downfall video in HC's honor, we suspect that his family will be greatly touched.
Now that we've got that little bit of housekeeping out of the way, we're pleased to announce that it's the death day of Jane Bowles, who passed away thirty-seven years ago on May 4, 1973. You may know Jane as the wife of Paul Bowles (who remains dead, at least as far as we know). What you may not know is that Jane herself was also a writer; indeed, a very good one. A novel, a play, half a dozen short stories, and a partridge in a pear tree. As Stacy D'Erasmo noted in the May 1999 issue of Out, she was one of the great, underrated writers of the 20th century. D'Erasmo compared Bowles to Gertrude Stein and Djuna Barnes, writing of the "disjunctive, inchoate, sometimes emotionally violent connections between her characters, particularly her quasi-maniacal 'spinster' women." John Ashbery called Bowles "a writer's writer. Few literary reputations are as glamorous as the underground one she enjoyed she has enjoyed since her novel, Two Serious Ladies, was published in 1943." But when Ashbery wrote these words (writing about her Collected Stories on January 29, 1967, in the New York Times Book Review, in the days when it was less shallow than it is now, when it still permitted poets to write thoughtful essays), he remarked that Two Serious Ladies had long gone out-of-print. This was something of a surprise, considering that Alice B. Toklas and Tennessee Williams had talked it up. Aside from featuring an original prose style, the novel did, after all, feature violence.
Bowles was born with the name "Jane Auer" in 1917. To the best of our knowledge, she did not contend with any crazy women in an attic. But she did prefer women. At the age of 20, she met her husband Paul — a man who was interested in both men and women. At the time, Paul was a composer. And when Jane began experiencing some success, in true competitive style, Paul himself was inspired to take up the pen. But when Paul found greater success as a writer, producing work much faster than Jane could, Jane grew extremely frustrated. For she worked much slower and with considerable care. According to numerous sources, she often claimed to be dying of writer's block.
But despite these problems (which weren't helped by the Bowles's frequent run-ins with notable literary people), she maintained a graceful wit. Allen Ginsberg once asked Jane if she believed in God. "Well," replied Jane, "if I do I'm certainly not discussing it on the telephone."
Jane hasn't received nearly as much attention as her husband. Even the New York Times, demonstrating its commitment to overlooking literary innovators, waited nearly a month before printing her obituary on May 31, 1973. And according to Virginia Spencer Carr's Paul Bowles: A Life, even her gravestone was unmarked. As John Hopkins was to note in Tangier Diaries, Jane's gravestone had transformed into "a refuse dump of broken flower pots and bottles and dead stalks cast aside by the assiduous ladies in black." This was twenty-three months after her demise.
Perhaps in death, Jane Bowles might find a new life.
Stay writing, don't die too early, and keep in touch!