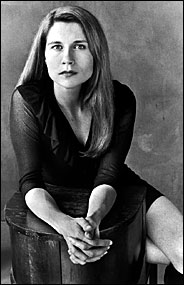 PHOTO DESCRIPTION: Ms. Haigh doesn't smile. She wears an austere "we mean business" look on the safe side of the nihilism fence, provenance enough for the Barnes & Noble crowd. She wears a black dress that reveals a bit of leg. The bench has been positioned so that we don't really see it. In fact, factoring in the cleavage pushed forward into an expanse of black, the overall effect appears to be an author ready to mount the table. And then there are the positions of her hands. Her right fingers fold over to draw our eye to her leg. Curiously, her knee has been cut off.
WHAT WE THINK THE BOOK MIGHT BE ABOUT (based on the photo): A dark and tawdry tale with potential erotic riffs, but without the benefit of a knock-knock joke.
WHAT THE BOOK IS ACTUALLY ABOUT: "Baker Towers tells the rich, enveloping story of one Polish-Italian family in the small Pennsylvania coal-mining town of Bakerton – where the sardonically named "towers" of the title are two huge heaps of sulfurous waste from the mines. When it comes to employment, Baker Brothers, the mine-owning company that dates back to the 1880's, is the only game in town." (Janet Maslin)
© 2005, DrMabuse. All rights reserved.