Written just after the author stepped into rush hour traffic and before he dared to look out of his own window before returning to his computer, Ian McEwan's novel "Saturday" creates a hero who dares to live out a privileged lifestyle and worriedly thinks about his investment portfolio. It is fear, directed towards the expected and the humdrum and the implausible, that drives Mr. McEwan's masterpiece. Today this fiction may seem as prophetic as Elizabeth Kostova's "The Historian," which features a palpable portrait of vampires tapping into victims while on the run. But both authors agree that today's fiction is designed to present things that will scare the bejesus out of you, with ordinarily stable minds rushing to FOX News and conspiracy-themed newsletters in search of further things to be frightened about.
"We can never have enough things to be frightened about. I myself am terrified of half-cooked foie gras," Mr. McEwan wrote in an Op-Ed piece just after enjoying a six-course meal on the very day of the London subway and bus bombings. (His article appeared simultaneously in Gourmet and Ladies' Home Journal.) That same day Ms. Kostova wrote on her Web site, "The bombings sadden me. But, on the bright side, sales should boost up as people look for more things to be afraid of."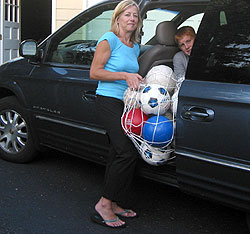 With such inevitability and the persistent strain of soccer moms fearing that the terrorists could firebomb the small-town high school fields they regularly frequent at any second, some of the most ambitious novelists are not only addressing this climate of fear but going a bit hogwild in their depictions, leaving a legacy that is not only quite silly but good for drawing half-baked generalizations that can be referenced while engaged in pretentious cocktail party banter. This is what Mr. McEwan calls "the complacent stage," a needlessly introspective and self-absorbed novel just after a big success (in this case, the remarkable "Atonement"). It would appear that this complacence is shared by Michael Cunningham's "Specimen Days," which is also considered a critical disappointment. Cunningham's most recent novel offers Walt Whitman's poems as the cure-all elixir. Have a drinking problem? Read "When Lilacs Last in the Dooryard Bloomed." Feeling depressed (perhaps suicidal?) because your local Whole Foods Market decided to close early and you couldn't get cheese made with coagulating enzymes? "O Captain! My Captain!" is right around the corner.
The important thing these days is for novels to reflect an almost pathological neurosis that only the richest 10% of our society can understand. This will then, in turn, perpetuate irrationally conceived fears in literature which detract from more pressing dilemmas.