[UPDATE: On the evening of January 21, 2009, I asked Tanenhaus in person about the concerns satirized below, and I was able to get a few answers. I point readers of this post to the direction of my later post, "In Which I Talk with Tanenhaus," where some questions are answered and Tanenhaus's perspective is reported.]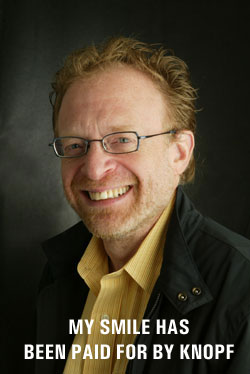 It started with Sam Tanenhaus's ridiculously uncritical review (and fawning video interview) with John Updike. It continued with Tanenhaus's lips nearly licking Toni Morrison to a needlessly sensual premature death. But this afternoon, Sam Tanenhaus proved that The New York Times Book Review isn't an independent organ, but rather a throbbing and dependent organ shoving itself restlessly into Knopf's moist vagina. The New York Times Book Review selected its top ten books of 2008. Seven of the books were from Knopf. Of the remaining three selections, two were from other Random House imprints under Knopf's watch. The only other publisher served was Farrar, Straus & Giruoux.
I think it goes without saying that someone is getting a cock sucked here.
My beef here is not with Random House, who has been consistently receptive and helpful to journalists of all stripes, but with Sam Tanenhaus's embarrassingly tendentious selection process. These are malodorous results that reek as shamefully as the Hollywood Foreign Press Association's "decision-making process" during the Golden Globe Awards. It bears the skunkish whiff of junkets and favoritism. And it certainly doesn't behoove any "paper of record" that expects us to take it seriously.
If this is a desperate ploy on Tanenhaus's part to coax Random House to buy more advertising space in the New York Times Book Review, well, the joke here's on Tanenhaus. Because why should Random House buy an advertisement in the NYTBR when they're getting all this free publicity?
Look, I love Updike as much as the next guy. But let's face the facts. By and large, the critics seemed to agree that The Widows of Eastwick didn't quite cut the mustard. For Tanenhaus to write, in all seriousness, "At 76, he still wrings more from a sentence than almost anyone else. His sorcery is startlingly fresh, page upon page," suggests very strongly that Tanenhaus assigned the wrong guy to review the book. It is one thing to marvel at Updike's prose. But it's quite another to fawn over it like an uncritical and sycophantic lapdog. For all the love and fanboyish accolades that have been granted to Joseph O'Neill's Netherland and Roberto Bolano's 2666, I've never seen any of these plaudits spill over into Tanenhaus's unmitigated hero worship.
How can any man live with himself knowing that he is such an unrepentant whore? Thank goodness Dwight Garner got out of this sausage factory when he did for the daily book reviewing gig. Compare Garner's more adept review of Alison Bechdel's The Essential Dykes to Watch Out For in today's edition. It's just as effusive as Tanenhaus's Updike review, but at least Garner still has some respect: both for himself and the readership.