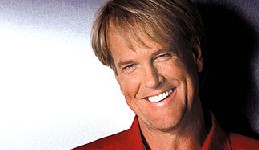 Seattle Post-Intelligencer: "But after a career in television news and sports and as a musician recording albums and performing concerts, Tesh is back on radio in earnest. He is host of a nationally syndicated show heard on more than 200 stations around the country."
The way I believe it works is this: if you have a frightening Nordic forehead and your musical contributions involve banging primitive arrangements onto a keyboard (not unlike a passive-aggressive caveman), you will, indeed, find work.
[RELATED: Developmentally disabled people are very excited about Huey Lewis & The News. (this link via MeFi)]
© 2005, Edward Champion. All rights reserved.