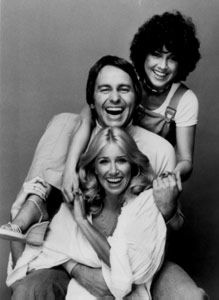 And then the perfect trio, Jack, Janet and Chrissy, who first hooked up at a party, with Jack waking up drunk in a bathtub and wondering if this American knockoff of a British television comedy would last, went on to amaze the network executives by lasting for several seasons and resorting to Chrissy's decolletage and her dorky snorts and the overall sophmoric level of innuendo. They were only in their mid-twenties and they drank very frequently at the Regal Beagle, a bar that offered a security to their wanton virility much like Linus' blanket. Every Tuesday night, for the next seven years, sometimes after Happy Days and Laverne & Shrley, tens of millions of smiling Americans listened to the theme song ("COME AND KNOCK ON OUR DOOR TAKE A STEP THAT IS NEW") and watched as the trio walked on the beach during the opening credits. In joint appearances sometimes with Larry, the upstairs neighbor who had a new lady on his arm every week — Chrissy's snorts, Janet after a rough day at the flower shop, and Jack, hamming it up like a bad hairdresser stereotype, who the Ropers living below them suspected was gay — there were fun times and pratfalls and Jack was such a sweet, good-natured guy who would find a way to fall over effectively at least six times each week because the audiences liked that. "I hope to open a bistro at some point," Jack said. "Failing that," Janet said, "you'll continue working for Mr. Angelino." The happy trio, whose ratings went through the roof and who were declared to be too smutty for primetime television by dint of Chrissy's tight sartorial garb, reconfigured their lineup when Chrissy wanted too much dinero. There was at first Cindy Snow, who laughed as brayingly as Chrissy but was not nearly as curvaceous, and then eventually a landlord named Furley and a nurse named Terri, whom Jack and Larry tried to play a prank on after Jack was humiliated by a hypodermic. But all good things had to end when Jack fell in love and ran a bistro with a chef named Felipe and decided that three was a crowd rather than good company, watching his show depart the airwaves and, lacking further character dimension despite his life circumstances being changed by the writers, departed into the mist of much-heralded sitcom characters.
At their mountain hideaway, to which, for several long and unpleasant years, fanzines were shuttled up narrow pathways and the occasional "Where are they now?" segments were spawned by "entertainment journalists," Janet and Chrissy spent several years in limbo. ("I'm sick of running a flower shop," Janet told Tripperland, a fanzine printed and disseminated in Ohio. "I miss Jack," Chrissy said, "I should have made it with him while he was still young and single.") Despite several months of amusement, it became apparent that the "entertainment journalists" were asking the same questions. Of the remaining cast, only Larry had some success running a used car lot. Terri, tired of nursing annoying patients, had thrown herself out a window on her fortieth birthday and had ended up a parapalegic nursed to health by Mrs. Roper, who, dissatisfied with Mr. Roper's continued inattention, had read up on ancient islands and Amazon warriors, and had decided that other women were more dependable than a landlord who complained and who had his eyes consistently pop out.
No one, however, had anticipated the popularity of television series on DVD. And decades after they had graced the airwaves, the remaining survivors were permitted to grace private living rooms courtesy of the generous "box sets" that were now being sold in stores. Jack was forced to annul his marriage and give up his bistro. Larry was forced to abandon his used car lot. Mrs. Roper was forced to return to Mr. Roper. And all were required to shed twenty years and repeat the dreaded dialogue and moves that had cemented their posterity. It was a terrible price to pay. But sooner or later, the public would forget about them.