While trying to score some bakeware this afternoon, I ran smack dab into a huge display that read "Emeril." Physically, I was unharmed. Emotionally, however, I was quite devastated. "Emeril," you see, was photographed with his arms outstretched on the various boxes. I did a quick search on the Internet and found the following photos: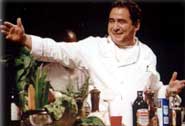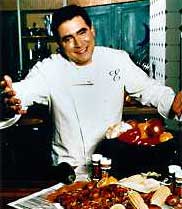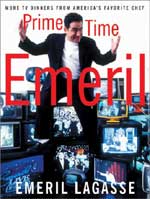 There doesn't appear to be a single photograph of this man with his arms close to his body.
Can someone tell me who this Emeril guy is? I don't have cable television. I'm completely in the dark about his show. But what I do know is that it's morally wrong to photograph a chef as if he just dismounted from a high beam. It does not, shall we say, inspire others to have fun in the kitchen.
To be perfectly frank, I'm alarmed by this man. His arms are so long that I wonder if they're mechanical enhancements. While one can look into Emeril's face and see that he's just a giddy, harmless bastard, what of the moral costs?
All I needed was an extra baking sheet. Instead, the Emeril display had me sobbing like an infant.