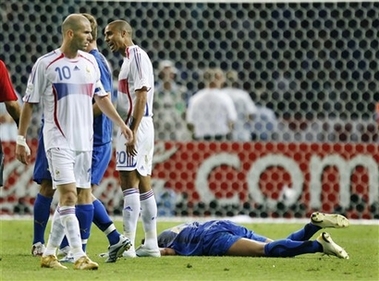 I was at the Irish Bank this afternoon with some pals (including a friend from Liverpool, who, with diplomatic intentions, refused to pick a team), rooting for Italy in the World Cup Final. But any shreds of sympathy I had for France disappeared with the arrival of Zineidine "Hubris Is the Secret Answer to Life" Zidane. The first indication that Zidane was problematic was when he was injured late in the second half, beckoning the medical authorities to him as if they were servants offering canapes rather than doctors restoring injuries. And then there was the head butt (pictured above) against Marco Materazzi — perhaps the lowest blow I saw during the World Cup. Thankfully, he was given a red card.
I hereby vote Zidane the Smuggest Player of the World Cup. He is everything that soccer should not be. So long as he plays, I cannot find it within me to root for France.
© 2006, Edward Champion. All rights reserved.