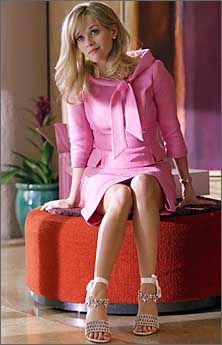 Dear Fake Squealy Women:
First off, allow me to distinguish between you and your counterparts: specifically, those genuinely squealy women or women with naturally adenoidal voices. I have no specific grievance towards this particular population cluster. Because they are, at least, authentic. Rather, my beef is with you.
Here's the way it works: Every so often, as I listen or otherwise get my tongue tied up in knots over you, you open your mouth and begin to talk back, thus beginning an amicable colloquy. With most women, this is quite pleasant and intoxicating — particularly if you are smart, sexy and playful. But, with you, fake squealy women, what transpires during this rejoinder is something infinitely disheartening. You see, instead of responding with a natural voice, you decide to adopt a squealy and nasal air, as if the entire world has somehow transformed into helium and entered the confines of your skulls. There is a decided effort and highly noticable inflection in the words you speak. There is often fake laughter directed at statements we make that are not, in fact, jokes but sober ruminations that we are intending to share with you and feel you out on. Yet somehow you think that we have absconded with Oscar Wilde's throne. What you put on here is clearly a performance. And yet you insist that this is the way you naturally talk. Little do you realize, fake squealy women, that despite being male and relatively clueless, we are not dumb. We do in fact talk with your friends and ferret out the truth.
Even in non-dating circumstances, fake squealy women, you still do this, particularly if you are employed in the public relations or human resources department. Why is this? Do you want to perpetuate this heinous gender divide? Do you want to sustain the atavistic notion that women are somehow dumber than men? Do you not realize how unbecoming and unattractive these faux oxygen-sapping vocal inflections are? Do you not realize, fake squealy women, that when you are over thirty and still doing this that you come across not as cute but sad?
My obsession with sex and the female anatomy is no less ineluctable, juvenile and boundless than that of my colleagues. Nevertheless, there is a clear line of demarcation between putting on a funny voice for a bit of adolescent fun and objectifying yourself by completely coming across as an idiotic airhead (when you are likely smarter). I'm hoping that I can appeal to all of you to stop this damn nonsense and speak with your genuine voices. When you have a conversation with a man longer than five minutes, I should point out that the man is not a policemen and this is not a speeding ticket that you are talking yourself out of.
Or perhaps, fake squealy women, you're terrified of being yourself.
Very truly yours,
Edward Champion