It's been a while since we awarded anyone the Chickenhead of the Month. We like to reserve this special prize for a person making truly astounding leaps in logic.
Lo and behold! While we may be on hiatus from the Brownie Watch, we opened the NYTBR's pages yesterday and found a fantastic dollop of silliness from none other than Bill Keller himself!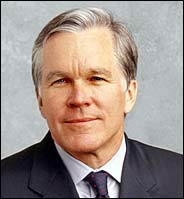 In a letter, New York Times Executive Editor Bill Keller responds to the Posner media essay that appeared a few weeks ago in the NYTBR. Keller has made a fantastic claim: namely, that the New York Times is in the business of providing something "more elevated and consequential." If this is the case, how does this explain the continued ridiculousness of the Style Section? Or last week's amazing devotion of Times resources to Bridget Jones? Or yesterday's slipshod cover story in the Magazine, where an alternative source was served up by a bogus claim of "technological advances" and, as Mr. Birnbaum noted in the comments section, a wholesale refusal to reference Hubbert's Peak?
If this is what Keller calls "more elevated and consequential," then I shudder to think about what he considers conventional. What business does Keller have talking about a professional code when he has hordes of Times staffers devoting precious time and resources to distinguishing between a salwar kameez and a sari? How dare Keller pull this stunt within his own pages when, by his own admission a few months ago, his paper failed to cut the mustard in covering Iraq? When I think about professional code, I think of a a newspaper that dares to question anybody and anything — whether the Bush Administration or Hilary Clinton. It is not, as Keller suggests in his interpretation of Posner's article, a matter of being either "liberal" or "supine," but of being regularly active and constantly probing any and all subjects, where others would fall asleep at the wheel. That is, in a nutshell, journalism. And believe it or not, it is not nearly as partisan in the blogosphere as Keller would suggest.
Additionally, one wonders if Keller's letter is a desperate ploy to give the NYTBR the illusion of intellectual debate. Despite a few brownie shipments sent to Mr. Tanenhaus and some successes, it has been clear to us that the Keller-Tanenhaus experiment has, for the most part, failed. Today's NYTBR is more concerned with providing column inches to John Irving and Nora Roberts, giving odious reviewers like Leon Wieseltier and Joe Queenan more paychecks than they deserve, rather than reflecting culture and literature, much less providing an "elevated " place to talk about it.
We suspect that the onus falls more on Keller than on Tanenhaus. We therefore grant Mr. Keller our "Chickenhead of the Month" award.