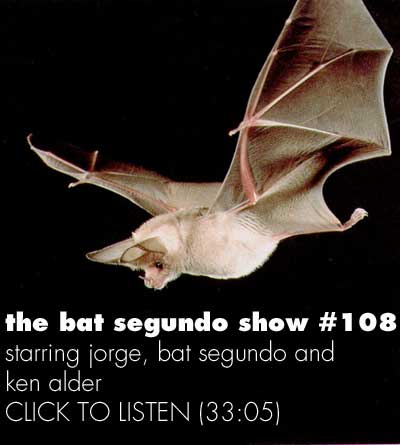 Condition of Mr. Segundo: Puzzled by polygraphs.
Author: Ken Alder
Subjects Discussed: The connection between polygraphs and Northwestern University, the United States' fascination with lie detectors and cultural connections, why allied nations use junk science, polygraph tests and employment, the lie detector as coercive device, the CIA, Aldrich Ames, John Larson and William Keeler, Leonarde Keeler, the lie detector vs. due process, waterboarding, August Vollmer, paranoid personal lives of the polygraph progenitors, the subjugation of women, criminal technology and the white male, the polygraph showdown between Ken Alder and Fred Hunter, reliable confessions, American loyalty, detective fiction and tabloid journalism's role in promulgating the lie detector, polygraphs and movie studios, advertising, Erle Stanley Gardner, asking Doug Moe's question to Alder, the placebo effect and crime statistics, Alberto Gonzales and contemporary coercion, and the dream of psychological certainty.
EXCERPT FROM SHOW:
Alder: You know, it's such a bizarre claim. There are different kinds of historians of science, and some historians of science go after the people who have the really big ideas and figure out these great novel ideas like Darwin and Einstein transform the world. And I do the opposite almost. I'm interested in history of the banal — those things that are so ubiquitous, as almost to be invisible. We don't even notice them anymore. And lie detectors in this country are just part of the landscape and yet we're the only country in the world that uses them.