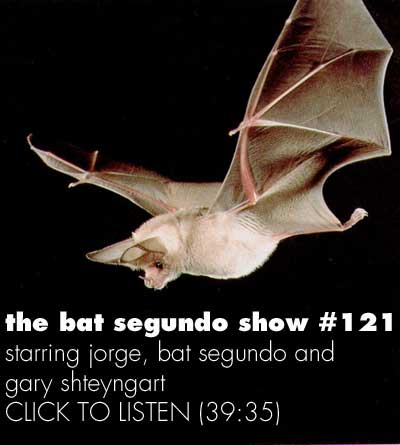 Condition of Mr. Segundo: Contemplating an ethnic switch to Russian.
Author: Gary Shteyngart
Subjects Discussed: Prince Myshkin and Misha Vainberg, Doestoevsky as a muse, fat man fiction, getting inside a corpulent character, Biggie Smalls, hip-hop traditions in other countries, technological references in satire, the apocalyptic novel vogue, the paucity of satire in contemporary fiction, the metafictional elements of Absurdistan, the 19th century plotting techniques for Absurdistan, the importance of notebooks, literary fiction as entertainment, linguistic slumming and lowbrow metaphors, kissing the back of testicles, going up against Cormac McCarthy in the Tournament of Books, the suspicions against comic novels, dick jokes, connectivity vs. inhabiting another person's mind, and not being able to exist without writing.
EXCERPT FROM SHOW:
Shteyngart: I also work in bed and don't really move very much. I don't know. My metabolism has been great so far. So I'm not so big. But when I was thirteen or so, I was actually a very husky child. I had to have a special suit made for my bar mitzvah. A special husky suit. So there's a big fat guy inside this little frame that's dying to get out. And the other thing is, I guess, was the American novel, A Confederacy of Dunces. And I was thinking primarily of Ignatius O'Reilly, one of the — I was asked recently to pick my favorite book in America in the last three decades and that was the book that came to mind. A wonderful rambling historical — a place also very rooted in its locality. New Orleans. And about a guy who loves to consume everything in sight. Those Lucky Hot Dogs, I'm thinking of. So I love to eat myself. And I love everything to do with food. So I wanted to make my guy gigantic, and I wanted to make him a real consumer — in a very American mode, but also in a kind of nouveau riche Russian mode.