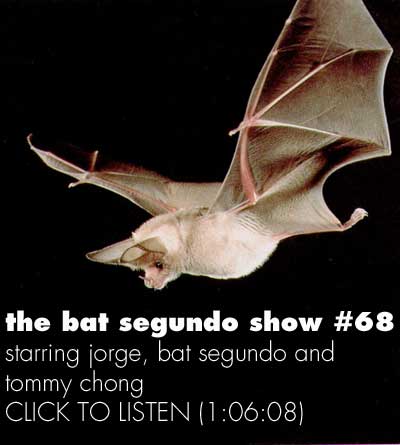 Author: Tommy Chong
Condition of Mr. Segundo: Recovering from a medical mishap.
Subjects Discussed: Examining Title 21, Section 863, whether Clinton was in power in the 1980s, salsa dancing, the requirements for being an FBI special agent, plea bargaining, prison life, bodyguards, the Bush family, the advantages of celebrity status vs. a common offender being incarcerated, Michael Milken, humility, trying to remember prisoner numbers, respect for victims of disaster, looking at objects differently after prison, Cheech Marin, Up in Smoke, Chong as director, the benefits of pot, Chong as lyricist, Pipe Dreams: The Musical, Eric Idle, conflict between Cheech and Chong, Cheech's art collection, Terence Malick, Lou Adler, Born in East L.A., Radiohead, and groups vs. individual artists.
© 2006, Edward Champion. All rights reserved.