I was recently informed by a reader that the gender ratio numbers I posted in one of my BookExpo America reports, which I obtained from Rebecca Mead, were incorrect. In an effort to provide accurate information, I have conducted an independent audit on the three current New York Times daily book reviewers — Dwight Garner, Michiko Kakutani, and Janet Maslin — for the period between June 1, 2013 and May 30, 2014 using the Times's website. (It is also worth noting out that, in February 2014, Publishers Marketplace did a gender bias count for the whole of 2013. 30 of Janet Maslin's 80 reviews, or 37.5%, were female authors. 15 of Michiko Kakutani's 54 reviews, or 28%, were female authors.)
To get an appropriately detailed takeaway on Times gender bias, I have counted every book selected for coverage, whether a full review, a capsule, or a roundup. Please note that I have excluded obituaries, a gift guide that featured Garner's content (and Maslin's), as well as the three critics' favorite books of the year — as these are not bona-fide reviews. I have provided links to all reviews, along with the author, title, and author's gender. If a single book has multiple authors, I have used incremental values (.5 Male and .5 Female for a book co-written by a man and a woman, a full Male value for two male authors.) I have also emailed Garner and Maslin (Kakutani's email address is unknown) to give them an opportunity to dispute the tally, which I have checked twice, and in the event that I have somehow missed any of their reviews. With translated authors, I have counted the gender of the original author. With anthologies, I have counted the gender of the editor. (I realize that this leaves out contributors. But very often, the gender bias between editor and contributors correlates. For example, in the case of MFA vs. NYC, 60% of the contributors are men.)
As can be seen below, none of the three reviewers come anywhere close to gender parity. Dwight Garner is the most women-friendly of the three reviewers, but when the percentage is a mere 34.1%, one has to wonder how a publication can operate with such a egregious gender bias in 2014. Maslin is behind Garner at 31.3%. Kakutani is the most casually sexist of the trio at 30.6%.
The below study is, to my knowledge, the most detailed effort to examine a long-standing problem at the Times, one that Garner, Kakutani, and Maslin, and their editors are all responsible for and refuse to discuss. Their choices, whether conscious or subconscious, have led a disproportionate amount of male writers to be represented in the Times's pages over the past year. I hope that these more accurate numbers lead to a constructive conversation on author gender bias in reviews, with efforts to rectify this imbalance. This is an important subject that public editor Margaret Sullivan has regrettably remained silent on. [UPDATE: As noted by Jennifer Weiner on Tuesday evening, Sullivan previously discussed the repeat review problem among male authors in 2013. Let us hope that she will opine on the gender bias issue that has been thoroughly documented by Rebecca Mead, Publishers Marketplace, and myself. I alerted Sullivan to this article by email and, as of Tuesday evening, have heard nothing back.]
[UPDATE: Andrew Krucoff helpfully points to a 1972 panel discussion with Nora Ephron. Ephron pointed out that 101 of 697 New York Times reviews, or 14.5%, between 1971 and 1972 were on books written by women. Compared against the 1956 Book Review, the figure was 107 of 725 reviews, or 14.5%.]
Dwight Garner
6/4/13: Tao Lin, Taipei (Male)
6/9/13: Charles Glass, The Deserters (Male)
6/13/13: Brendan I. Koerner, The Skies Belong to Us (Male)
6/18/13: Kenneth Goldsmith, Seven American Deaths and Disasters (Male)
6/25/13: Ahmir Thompson, Mo' Meta Blues (Male)
7/3/13: Margot Mifflin, Bodies of Subversion (Female)
7/9/13: Roberto Bolaño, Unknown University (Male)
7/11/13: Double review of Terry Eagleton (2 Males)
7/16/13: Robert Kolker, Lost Girls (Male)
7/18/13: The Complete Short Stories of James Purdy (Male)
7/23/13: Lawrence Osborne, The Wet and the Dry (Male)
7/30/13: Juan Gabriel Vásquez, The Sound of Things Falling (Male)
8/1/13: Tash Aw, Five Star Billionaire (Male)
8/7/13: Robert Wilson, Matthew Brady: Portraits of a Nation (Male)
8/15/13: Sophie Fontanel, The Art of Sleeping Alone: Why One French Woman Suddenly Gave Up Sex (Female)
8/18/13: Resisting the Siren Call of the Screen: 3 books; 2 Males, 3 Females.)
8/28/13: J.M. Coetzee, The Childhood of Jesus (Male)
9/9/13: Nicholson Baker, Traveling Sprinkler (Male)
9/12/13: Nate Jackson, Slow Getting Up (Male)
9/17/13: Jesmyn Ward, Men We Reaped (Female)
9/24/13: Allan Gurganus, Local Souls (Male)
9/26/13: Jill Lepore, Book of Ages (Female)
10/1/13: Karl Kraus, The Kraus Project (Male)
10/8/13: Wendy Lower, Hitler's Furies (Female)
10/10/13: Stanley Crouch, Kansas City Lightning (Male)
10/16/13: Rose George, Ninety Percent of Everything (Female)
10/24/13: James Wolcott, Critical Mass (Male)
10/29/13: Cathy Scott-Clark and Adrian Levy, The Siege (.5 Female, .5 Male)
11/5/13: Gregory Zuckerman, The Frackers (Male)
11/7/13: Dana Goodyear, Anything That Moves (Female)
11/12/13: Alexander Cockburn, A Colossal Wreck (Male)
11/19/13: Ari Shavit, My Promised Land: The Triumph and Tragedy of Israel (Male)
11/21/13: Geordie Greig, Breakfast with Lucian (Male)
11/26/13: Retha Powers (editor), Bartlett's Familiar Black Quotations (Female)
2/5/14: Joyce Carol Oates, Carthage (Female)
2/11/14: Malcolm Cowley, The Long Voyage (Male)
2/13/14: Marcel Theroux, Strange Bodies (Male)
2/20/14: Greg Kot, I'll Take You There (Male)
2/22/14: 5 Books to Take on Your Travels (Capsule piece: 3 male, 2 female)
2/25/14: Chad Harbach (editor), MFA vs. NYC (Male)
2/27/14: Juan Pablo Villalobos, Quesadillas (Male)
3/3/14: Dan Jenkins, His Ownself: A Semi-Memoir (Male)
3/10/14: Simon Schama, The Story of the Jews (Male)
3/13/14: Jolie Kerr, My Boyfriend Barfed in My Handbag…and Other Things You Can't Ask Martha (Female)
3/15/14: Molly Antopol, The UnAmericans (Female)
3/25/14: Teju Cole, Every Day is for the Thief (Male)
3/27/14: Leslie Jamison, The Empathy Exams (Female)
4/1/14: Lydia Davis, Can't and Won't (Female)
4/8/14: Adam Begley, Updike (Male)
4/15/14: Barbara Ehreinreich, Living with a Wild God (Female)
4/18/14: Theodore Rosengarten, All God's Dangers (Male)
4/22/14: Nina Stibbe, Love, Nina (Female)
4/25/14: Nikil Saval, Cubed (Male)
4/30/14: Lisa Robinson, There Goes Gravity (Female)
5/7/14: Ruth Reichl, Delicious! (Female)
5/9/14: Colson Whitehead, The Noble Hustle (Male)
5/15/14: Kai Bird, The Good Spy (Male)
5/27/14: Tom Robbins, Tibetan Peach Pie (Male)
5/28/14: Karl Ove Knausgaard, My Struggle (Male)
5/29/14: Patricia Lockwood, Motherland Fatherland Homelandsexuals (Female)
FINAL GARNER STATS:
Male Writers: 45.5 writers (65.9%)
Female Writers: 23.5 writers (34.1%)
TOTAL WRITERS: 69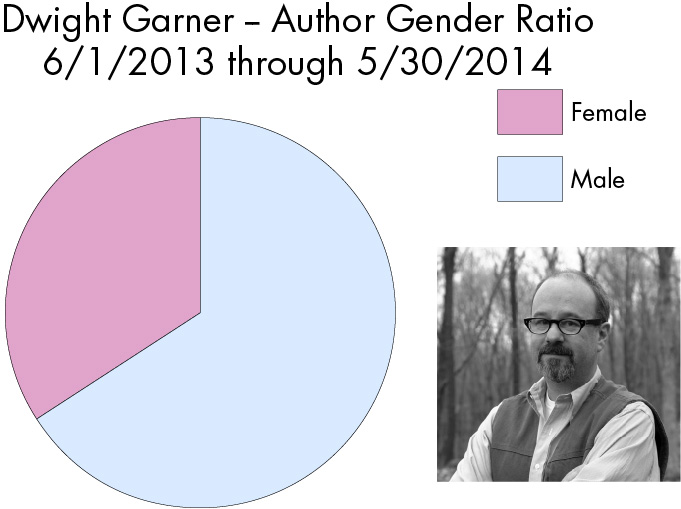 Michiko Kakutani
6/2/13: Jonathan Alter, The Center Holds (Male)
6/3/13: Anton DiSclafani, The Yonahlossee Riding Camp for Girls (Female)
6/10/13: Viktor Mayer-Schönberger and Kenneth Cukie, Big Data (Male)
6/12/13: Lea Carpenter, Eleven Days (Female)
6/16/13: Curtis Sittenfeld, Sisterland (Female)
6/24/13: Brett Martin, Difficult Men (Male)
6/27/13: Colum McCann, TransAtlantic (Male)
7/1/13: Joseph J. Ellis, Revolutionary Summer (Male)
7/8/13: Stephen Grosz, The Examined Life (Male)
7/15/13: Jenni Fagan, The Panopticon (Female)
7/17/13: J.K. Rowling, The Cuckoo's Calling (Female)
7/28/13: David Gilbert, & Sons (Male)
8/12/13: Thurston Clarke, J.F.K.'s Last Hundred Days (Male)
8/21/13: A.A. Gill, To America with Love (Male)
8/25/13: David Shields and Shane Salerno, Salinger (Male)
9/5/13: Edwidge Danticat, Claire of the Sea Light (Female)
9/10/13: Thomas Pynchon, Bleeding Edge (Male)
9/16/13: Norman Rush, Subtle Bodies (Male)
9/19/13: Jhumpa Lahiri, The Lowland (Female)
9/30/13: David Finkel, Thank You for Your Service (Male)
10/3/13: Dave Eggers, The Circle (Male)
10/7/13: Donna Tartt, The Goldfinch (Female)
10/14/13: William Boyd, Solo) (Male)
10/28/13: Brad Stone, The Everything Store (Male)
11/4/13: Mark Halperin and John Heilemann, Double Down (Male)
11/11/13: Doris Kearns Goodwin, Bully Pulpit (Female)
11/18/13: Mike Tyson, The Undisputed Truth (Male)
11/25/13: Robert Stone, Death of the Black-Haired Girl (Male)
12/1/13: Robert Hilburn, Johnny Cash: The Life (Male)
12/9/13: Russell Banks, A Permanent Member of the Family (Male)
12/16/13: Bruce Wagner, The Empty Chair (Male)
1/6/14: Gary Shteyngart, Little Failure (Male)
1/8/14: Robert M. Gates, Duty (Male)
1/13/14: Chang-rae Lee, On Such a Full Sea (Male)
1/20/14: Jay Cantor, Forgiving the Angel (Male)
1/27/14: B.J. Novak, One More Thing (Male)
1/29/14: Jenny Offill, Dept. of Speculation (Female)
2/2/14: Elizabeth Kolbert, The Sixth Extinction (Female)
2/4/14: Luke Harding, The Snowden Files (Male)
2/6/14: Jonathan Allen & Amie Parnes, H R C (.5 Male, .5 Female)
2/17/14: Gregory Feifer, Russians: The People Behind the Power (Male)
2/19/14: Lorrie Moore, Bark (Female)
2/26/14: Phil Klay, Deployment (Male)
3/3/14: Dinaw Mengestu, All Our Names (Male)
3/24/14: Scott Eyman, John Wayne: The Life and Legend (Male)
3/31/14: Francesca Marciano, The Other Language (Female)
4/3/14: Karen Russell, "Sleep Donation" (Female)
4/15/14: Mona Simpson, Casebook (Female)
4/18/14: David Grimm, Citizen Canine (Male)
4/28/14: Michael Cunningham, The Snow Queen (Male)
5/6/14: Roz Chast, Can't We Talk About Something More Pleasant? (Female)
5/12/14: Timothy F. Geithner, Stress Test (Male)
5/13/14: Glenn Greenwald, No Place to Hide (Male)
5/20/14: Edward St. Aubyn, Lost for Words (Male)
FINAL KAKUTANI STATS:
Male Writers: 37.5 writers (69.4%)
Female Writers: 16.5 writers (30.6%)
TOTAL WRITERS: 54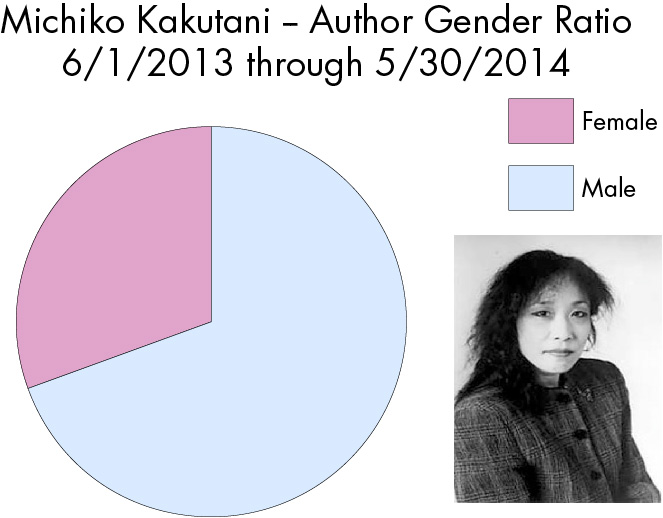 Janet Maslin
6/6/13: Summer Roundup (16 books: 13 Males, 3 Females)
6/17/13: Carl Hiaasen, Bad Monkey (Male)
6/19/13: Phillipp Meyer, The Son (Male)
6/23/13: Rachel Joyce, Perfect (Female)
1/26/14: Jennifer Senior, All Joy and No Fun (Female)
2/3/14: Robert Harris, An Officer and a Spy (Male)
2/10/14: Matthew Quick, The Good Luck of Right Now (Male)
2/16/14: Laura Lippmann, After I'm Gone (Female)
2/23/14: Blake Bailey, The Splendid Things We Planned (Male)
3/5/14: Chris Pavone, The Accident (Male)
3/6/14: Benjamin Black, The Black-Eyed Blonde (Male)
3/9/14: Nikolas Butler, Shotgun Lovesongs (Male)
3/12/14: Olen Steinhauer, The Cairo Affair (Male)
3/17/14: Walter Kirn, Blood Will Out (Male)
3/19/14: Bob Mankoff, How About Never — Is Never Good for You? (Male)
3/23/14: Holly George-Warren, A Man Called Destruction (Female)
3/26/14: Jean Hanff Korelitz, You Should Have Known (Female)
4/1/14: Michael Lewis, Flash Boys (Male)
4/4/14: Boyd Varty, Cathedral of the Wild (Male)
4/8/14: Emma Donoghue, Frog Music (Female)
4/11/14: Francine Prose, Lovers at the Chameleon Club (Female)
4/17/14: The Selected Letters of Elia Kazan (Male)
4/24/14: Hisham D. Aidi, Rebel Music (Male)
4/29/14: Anthony Doerr, All the Light We Cannot See (Male)
5/2/14: Howard Norman, Next Life Might Be Kinder (Male)
5/5/14: David Kinney, The Dylanologists (Male)
5/23/14: Summer Roundup (14 books: 8 Males, 6 Females)
FINAL MASLIN STATS:
Male Writers: 68 writers (68.7%)
Female Writers: 31 writers (31.3%)
TOTAL WRITERS: 99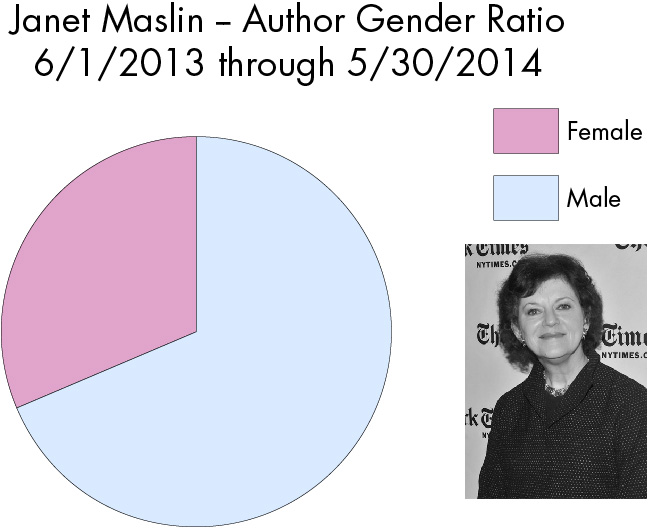 © 2014, Edward Champion. All rights reserved.