Carol Emshwiller and Sharifa Rhodes-Pitts appeared on The Bat Segundo Show #389.
Listen: Play in new window | Download
Today is Carol Emshwiller's 90th birthday. She is the author of Carmen Dog, The Mount, and numerous stories. Nonstop Press has recently issued The Collected Stories of Carol Emshwiller. Her work can be thoroughly investigated through The Carol Emshwiller Project. (Many thanks to Gavin Grant for his assistance in setting up this conversation.)
Sharifa Rhodes-Pitts is the author of Harlem is Nowhere.
Condition of Mr. Segundo: Wondering why there's a sentient mount attached to his back.
Authors: Carol Emshwiller and Sharifa Rhodes-Pitts
Subjects Discussed: Bears that Ms. Emshwiller keeps in her house, writing to please one's self, fooling Harlan Ellison, slanting a story to sell it to a science fiction magazine, throwing strange ideas into short stories on purpose, increased short story competition, selling a story in a day, commercial value vs. name value, not writing for eight months, dealing with blindness, working on multiple stories at the same time, the difficulties of writing fiction vs. the ease of nonfiction and email, Kate Wilhelm, the visual components of sentences, being advised to purchase $150 glasses, inventing a fictional family as a way of coping with grief, how a single line of dialogue can stop a writer in her tracks, not forcing the creative process vs. keeping productivity going, whether or not Ms. Emshwiller has ever been terrified of her own ideas, the torture within Carmen Dog, Kafka's influence, authors who laugh at terrible events on the page, the emotional truth of dangerous ideas, collaborating with Ed Emshwiller on films, formulating plot and looking ahead, repeating an idea, the cheat of characters who go for a walk, twisting an emotion, kindness as a wild emotion in "Creature," studying animal psychology before The Mount, being seized an idea, reading for pleasure, the inseparable connections between reading and writing, books on tape, loss of reading desire with blindness, how blindness causes everything to take six times as long, competing notions of what Harlem's boundaries are, balancing a view through books and a view through people, capturing "snapshots" of neglected figures as an observer, James Baldwin's "Jimmy moment," personal evasions, Rhodes-Pitts speculating on Harlem based on observing funeral parlors, having a relationship to a place without going in, aligning a piece of information from the library to personal experience, serendipity, Rhodes-Pitts's film background, how films and photographs help make sense of a neighborhood, Aaron Siskind's Harlem Document Series, photographs as a residue of living, addressing Dwight Garner's white bread vantage point, interpretive demands from critics, parallels between the African American Day Parade crowd and the 1919 Harlem Hellfighters, ongoing familiarity with historical figures among Harlem residents, the applicability of historical framework, Ralph Ellison and the Federal Writers' Project, Invisible Man, Zora Neale Hurston, 1944's "Harlem Hunches," quibbles with WPA oral history and manipulated slave narratives, phony dialect created by white writers, attempting to write a hopeful account when there's a historical sense of pain, and the shock waves of Harlem gentrification.
EXCERPTS FROM SHOW: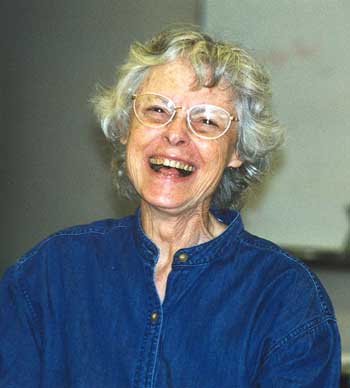 Correspondent: In the introduction for The Collected Stories, which has been collected all in one book and published just in time for your birthday, you allude to there being five different phases of your writing life. What was interesting to me was that you mentioned the fourth phase, which was just after your husband had passed away, and you say that you were writing stories and these Western novels because you wanted to have a family. Your kids had gone away and all that. I was curious why the family on page meant more or needed to be there in addition to the real people in your life.
Emshwiller: Well, my family wasn't there. (laughs) That's the point! You know, the kids had all gone off. And I didn't have any kids anymore near me. And then I didn't have a husband anymore. And I was by myself. And what I did was — well, it's sort of a long story. The very first thing, to get into that cowboy stuff, my daughter had a wonderful idea. She said, "Why don't you go to this dude ranch that I know of?" Right? And I said, "I don't even like horses anymore!" And I didn't want to go. And I just fought her and fought her. And she said, "You gotta do something. You gotta go some place you never went before. Do something you never did before." And she pushed me up there. And then, in two days, I was just back to horses and farm life and cows and everything. They had everything up there. Pigs and chickens. Everything.
Correspondent: Why the aversion to horses?
Emshwiller: What?
Correspondent: Why the aversion to horses?
Emshwiller: Oh, before, you mean?
Correspondent: Yeah.
Emshwiller: Well, when I was a twelve-year-old girl, I was into horses. And if I had a dollar, which I didn't have very often, I would go and ride. Which was not every often. And after that, I grew up.
Correspondent: Horses? Yeah. Big deal. In the boonies.
Emshwiller: (laughs) Yeah, right! I didn't hear anything about them anymore. But then it only took two days to realize that this was really great. And my daughter was absolutely right. I would just switch away into another life. And then when I came home though, I didn't write another line for a year.
Correspondent: Oh wow.
Emshwiller: After Ed [Emshwiller] had died. And I lay comatose in front of the TV set, looking at Westerns. Trying to see. Watching horses and watching mountains, which I really learned to love the mountains with Ed. When we were together, we used to climb around a lot. And then, after I got through mourning for a year and not doing anything, then I started writing the Westerns. I made myself a family. The thing is: I wrote. I can see a lot of people doing this though. For those two novels, I wrote like I never wrote before. I didn't go anywhere. Those people were more real than my friends.
Correspondent: Wow.
Emshwiller: More real. And they were my life. For two years. Or three years. I don't know how long it took to write both those novels. I thought of nobody else. And I didn't go to any movies. My friends would give readings and I didn't go. I didn't go to everything.
Correspondent: They were more real than your real friends. Why do you think that is? Why did they…?
Emshwiller: I don't know how that happened! (laughs)
Correspondent: Your imagination was that powerful, I suppose.
Emshwiller: And my writing changed completely during that. Then I went back to science fiction. From that experience, I think it expanded deeper into people, I think. Although I don't think I'm as deep as U was into those people now. I think I squeezed back a little bit to the science fiction things.
Correspondent: You needed to invent people in order to understand them?
Emshwiller: I think. I don't know. Of course, they were my invention. I understood. (laughs)
Correspondent: (laughs) Yeah, it's tilted the balance there.
Emshwiller: Of course they don't always do what you want them to do.
Correspondent: Of course. Which is why I suggested an invented simulacrum of people might almost be more effective. Because they're coming from your subconscious. It's not like you are controlling them completely.
Emshwiller: No. I found that out. (laughs)
* * *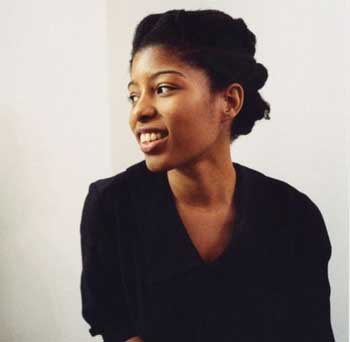 Correspondent: I wanted to first of all start with the notion of Harlem as an area. There are numerous skirmishes throughout history, some of them based off of racist fears about what Harlem's boundaries are. And even when you were in Texas, you describe in this book creating an imaginary map of Manhattan. So given this, and given the fact that one person will call Harlem "a ruin," another person will call it "an East Berlin whose wall is 110th Street," how can any one person describe its totality? I mean, can this book or can any book really capture it? Or do you essentially fall into the Alexander Gumby problem of an overflowing collection of clippings?
Rhodes-Pitts: My attempt was not to give a description of Harlem in the colonial sense, when cartographers would go off into the bush and make a map that attempts to be true to life. It remains an idiosyncratic map of this place that is outlined by my personal experiences and my personal curiosity. And in the midst of living here — and really it was living here that helped for the book, it wasn't the other way around; I didn't move here to write this book — my own personal obsessions and curiosity collided with those of other people. And some of those encounters are captured in the book. Now whether it's — I mean, I guess I don't trust the project of someone who would claim that they were setting out to describe the totality of any place. It's simply as that.
Correspondent: How about this? I'm curious about the different worlds between your peregrinations through the neighborhood, talking with people who live here, versus your dutiful efforts in the library to make sense of the history. You say that the personal quest encouraged this more scholarly quest. And I'm not sure if it's fair to necessarily call it a dichotomy, but I'm curious how the two worked in relation to each other in terms of this book.
Rhodes-Pitts: Well, it's a funny way of running back and forth between two fields in a way. And clearly my first encounters in Harlem, as I described in the book, were through literature, through books. And then I guess you could say I run to the field of experience when I actually move here. And then I'm simultaneously collecting things from the field of experience and from the field of the archive. And I guess as I finally set down to sort through everything that I gathered in my imagination and my experience and my reading, I was conscious of one way to make all of those things on one plane as best as I could. And I think I tried to do that through the way certain fictional characters move through that one chapter as characters and plucking them from their environment and colliding them together as figures in one scene from their different respective homes in literature. And then also making those figures live alongside the people that I knew and who told me their stories, or shared not even their whole stories but snippets of stories that come out in casual conversation. Not through interviews. Which I was really conscious about. So I just think my attempt was always to make the things equal in my treatment of them, and not to privilege one over the other.
Correspondent: Well, for example, you do write about going out of the library and seeing a man there who is reading the Koran. And you observe this tableau. But the question of what you memorialize — and this is also in relation to that photograph you mention — is something interesting and oscillates between these two points. I detected in reading this book that there was a little bit of "Should I impede on the person who's practicing this private ceremony, but is nevertheless part of the neighborhood or should I observe him?" Was this a struggle in terms of deciding which characters to pick for the book? Who to populate the book to really present your view of Harlem?
Rhodes-Pitts: Again, I think a lot of that is defined by temperament. And I don't think there was a method to it as much as there was my way of moving through the world, which is often as an observer, and completely aware that what I observe and then choose to describe is part of a selection process. And it was really important. The book is in no way my unscented notebook of seven years in Harlem. It's very specific images — whether they're flashes in the case of that particular man, who, for me, sitting outside the library. Clearly some sort of dedicated scholar or man of religion, who was also selling incense and shea butter as a street vendor. Probably not making that much money. Which is an interesting tableau, as you put it, of the pursuit of knowledge happening right outside the door of this other shrine to that pursuit. And I was always very interested in how a lot of the figures — especially the ones that I knew — when I tell their stories, it's not just a funny story he told me, but it's really often those stories are about an exchange of knowledge. The impossibility of seeking the stories and the truth and history in some ways. The evasiveness of those stories. And so I guess when I do go through my — whether memory or notes or the histories that I read, it's very much with a direction. So there's always a choice. You know, I have a background in film. So I'm very much aware of what it means to edit. To seek and to edit. To capture and sift.
The Bat Segundo Show #389: Carol Emshwiller & Sharifa Rhodes-Pitts (Download MP3)
This text will be replaced