This Bat Segundo special chronicles Our Correspondent's indefatigable and good faith efforts to find appreciation for an author he does not care for — namely, Henry James. Our Correspondent read numerous books for this particular episode and appealed to several James scholars and acolytes to help set him straight. Susan Mizruchi is most recently the author of Henry James: A Very Short Introduction. Dinitia Smith is most recently the author of The Prince.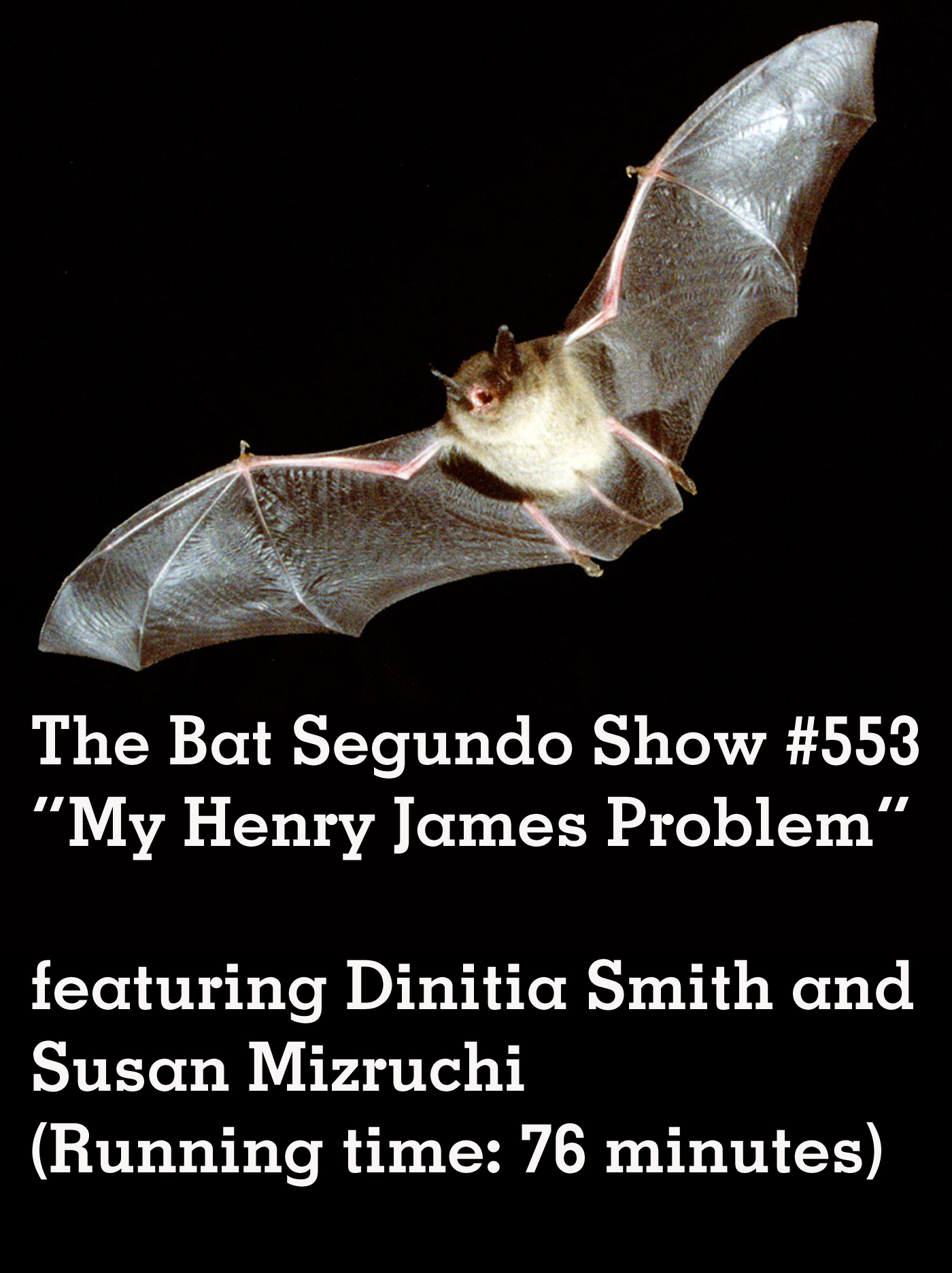 Subjects Discussed: Dick Cavett, the Correspondent's failure to love Henry James (particularly the late period), slow reading, how the pandemic stoked Henry James love, William Dean Howells, the initiated reader, James's unruly prefaces, Lawrence Durrell, rereading The Golden Bowl, the description of afternoon tea in The Portrait of a Lady, Neal Stephenson, James's characters, being married, Edith Wharton, Finnegans Wake, psychology, William James, Gore Vidal's essay on The Golden Bowl, James's "conversational style," dialogue, Marlon Brando, the Correspondent's Modern Library Reading Challenge, literary mansplaining, why Henry James film adaptations don't help the Correspondent, Dark Shadows and The Turn of the Screw, Hanya Yanagihara's To Paradise, how James can inspire a novelist, transposing James to the 21st century, pastiches vs. homegrown style, James's page-long sentences, the four characters at the center of The Golden Bowl, why the Assignhams are annoying, why James's characters don't seem to discuss anything other than the relationships that serve the storyline, creating grand houses, the urge to line-edit James's very long sentences, pre-modern novelists, how The Ambassadors inspires nightmares, James's class structure, robber barons, whether or not the descendants of rich people are friendly, how a cinematic sensibility meshes with James, taking The Golden Bowl apart, wealthy people and privacy, the Rockefellers, private islands, Andrew Carnegie, Ron Chernow's The House of Morgan, Frick and the Homestead Strike, Gardiners Island, the friendship between Edith Wharton and Henry James, The House of Mirth vs. The Golden Bowl, having a taste for James, the number of literary people who don't like James, narrative deficiencies in postmodern novels, Ruth Prawer Jhabvala taking narrative liberties with Charlotte in her adaptation of The Golden Bowl, the tolerable qualities of dictators, vintage clothing and the rich, Rome as an inspirational force for literature, how cities change and how novelists adapt to those changes when writing about these cities, the Hudson Valley, transposing James's London setting to New York, growing up in London, the dying Victorian echoes in British vernacular, how once dependable London tea spots have become gentrified, the UK aristocracy, passive-aggressive behavior in London, James's life in England, British politeness and indirection, extramarital affairs, secrets that are buried in families, the secrets within James's novels, Henry James vs. Lost, the insanity of rereading The Golden Bowl, Marguerite Young's Miss Macintosh, My Darling, Virginia Woolf and James, when critics praise novels that nobody really likes, Jonathan Franzen, overwritten sentences, hate reading and rage, Henry James's overuse of "connexion" and his annoying Anglophilia, the fluctuating importance of James, James Joyce vs. Henry James, the lack of humor in James, debating the "poetic" elements of James, how James dictating his work created resentment more than a century later, carpal tunnel syndrome, James as a closeted gay man, the regrettable depiction of women in The Golden Bowl, Proust, how James's style evolved in his later work, the Oscar Wilde trial, how James's personal dealings with women may have affected his literary depiction of women, how the transformation of marriage in the 20th century has affected portrayals of women in literature, #metoo and Henry James, the many books on Henry James in 2004 (Coim Toibin, David Lodge, et al.), women and jobs, postwar novelists, Saul Bellow, The Adventures of Augie March, George Eliot and Dorothea in Middlemarch, economic developments in the 20th century, writing and children, Iris Murdoch, and feminism.
EXCERPT FROM SHOW:
CORRESPONDENT: Going back to the whole Henry James problem, here's the thing. Right now, I'm actually going through all of Edith Wharton. And I love her. I love her. I have no such problems with her. She's amazing. The House of Mirth. The Age of Innocence. All those ghost stories. She depicts class far more intelligently and far more subtly and with far greater nuance than Henry James. And not only that. I have to ding Henry James for taking ten years to befriend her after Edith Wharton was saying, "Hey, Henry! I love you!" And then he takes ten years and does that false modesty thing. Please give me a reason why I should give Henry James another shot. You talk about the mystery and the ambiguity. I look at his sentences and honestly I see something that is completely on the nose. I don't see characters here who have the great vivacity of Lily Bart from The House of Mirth or any of these other great classics of that era. You know?
SMITH: Well, you know, I have to agree with you in some bizarre way. I love Edith Wharton. Of course they were friends. They became friends. He was kinda snotty about her first short story. But they became very close. She admired him so much. But I think you're right in some way. With regard to The Golden Bowl, the only way to see it is as a mystery. But you have to go through these filaments of language and find the truth underneath it. And you have to have a taste for it. And I happen to like being surrounded by the miasma of Henry James, But Wharton is a great, great novelist. She tells you a story in plain English that you can lose yourself in. And I think human beings love stories. They tell stories every day. And my primary goal as a novelist is to tell a good story. So let's just say that Henry James is a hobby of mine that not everyone shares.
CORRESPONDENT: I know. And look, I want to cultivate this taste, Dinitia, but I am having incredible difficulty with this late period — especially these last three novels. To me, Henry James is the most offensive mansplainer in all of American literature. Am I just missing some DNA that will allow me to appreciate Henry James? Come on! Stump for this guy for me!
SMITH: You make me laugh. I've learned as a novelist — and as a sort of literary person — just how many of my literary friends don't like certain authors.
For example, I tend to not like a lot of contemporary novels, which are kind of postmodern, fragmentary, and usually about a woman with a husband betraying her. Or who doesn't like her children. I think we can all be forgiven for not liking these novels, which are very, very successful right now.
But I think we all can be forgiven. I might discuss books with my friends and discover. There are certain authors that they just can't abide by and they are very talented. I've learned to forgive myself when I find the authors that I don't like. I suggest you forgive yourself and leave them alone and read Edith Wharton!
Music used in this show is licensed through Neosounds.