Diablo Cody's win over Tamara Jenkins for the Best Original Screenplay Oscar is perhaps the most egregious Oscar victory since Oliver! beat out 2001 for Best Picture in 1968. If this were a just universe, the appropriate executives would have taken Cody out behind the shed shortly after reading Juno and shot her down like an old dog. Instead, the Academy awarded Cody the Oscar for relying upon cultural references over emotional conviction, for using characters who are ironically detached rather than prepared to face the visceral realities of responsibility, and for encouraging Jason Reitman to employ the most insipid use of angst-ridden indie rock in cinema I've seen in some time.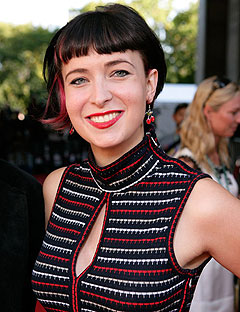 Let us be clear on this. I saw all five Best Picture nominees. And while I liked the other four, it is an outrage that so many thinking people have been duped by Juno. Ellen Page's snarky one-note performance, originating from the same creative morass that spawned such execrable "wonders" as Napoleon Dynamite, Little Miss Sunshine, and Wes Anderson's films after The Royal Tenenbaums, is considered multilayered and superlative. Nobody has had the balls to call out Reitman for relying so heavily upon great character actors like Rainn Wilson and Allison Janney to disguise his creative deficiencies. Juno was nothing more than an extended episode of Arrested Development — a dreadful film in which such filmmaking tactics as six consecutive cuts of a van driving in front of a suburban house are considered "clever" and in which Michael Cera has been encouraged to abdicate his talent in favor of being typecast as the nice guy (and he will most certainly be typecast, if he takes another one of these damnable roles).
Juno is a film that would rather have its titular protagonist cry out "Thundercats, ho!" while she is going into labor than express anything tantamount to fright or second thoughts. It is a film content to have Jason Bateman name-check Herschell Gordon Lewis and Sonic Youth instead of having him emote over the difficulties of getting older. It is a film content with such cheapshots as Jennifer Garner presented as a yuppie mom caricature and another mom (played by Darla Vandenbossche) mocked for being older and overweight. (In fact, Vandenbossche's sole purpose for being in this film is to be ridiculed by Cody. What does that say about emerging talent?) This is a film designed for people who do not feel or embrace the world in any genuine way. With the exception of Juno's parents (played by Allison Janney and J.K. Simmons), I felt nothing for any of the characters in this film. They were uninteresting, solipsistic, and as hackneyed as the flattest of paper dolls. I was appalled at the film's reliance upon artifice over conviction. Handing over the Oscar to that inarticulate waif Sofia Coppola was one thing. But giving it to Cody for Juno last night was a true injustice.
The best original screenplay of 2007 — Tamara Jenkins's The Savages, which bristled with emotion and intelligence — was entirely ignored by both the Academy and the purported streetcred of the Independent Spirit Award for a film phonier than a second-hand Hallmark card. If awards ceremonies are anything to go by, Hollywood is in trouble. Homegrown talent can't measure up. Not only is Hollywood awarding its acting laurels to the Europeans, but it now feel content to dismiss any screenwriter who dares to pursue the human heart in conflict with itself. It's the hip adding machines like Cody who now matter. But despite Cody's penchant for taking off her clothes, the naked truth of true emotion eludes her.