Now that the "fake news" braying from the frayed Trump cabal has faded into the obscurity of a horrifying age feeling improbably older than its actual position on the Gregorian calendar, the time has come to reckon with the alt-journalist sociopath, who may represent one of the greatest threats to empathy and thoughtful reflection in 2021. I speak, of course, of the Tim Pools, the Glenn Greenwalds, the Andy Ngôs, and, most recently, the Michael Traceys of the universe. These scenery-chewing and humorless offshoots of the so-called "intellectual dark web" live for ruining people even as they pretend to espouse some greater "truth-telling" ideal. They have picked up the slack left by Trump's ban from all social media, catering to the ravenous hordes who wish to believe that the earth is flat and that the illusory Democratic conspiracy against them is very real.
If you are fortunate enough to have never encountered the alt-journalist sociopath, then let me fill you in on his common qualities. For the alt-journalist sociopath is almost invariably a "he" and really makes you aware of this fact by callously disregarding how other people use pronouns. (Ngô has gone to the trouble of deadnaming one of his victims. The YouTube commentator Vaush has limned Pool's transphobic positions in an epic 85 minute video. Greenwald stumps for transphobic authors. Tulsi Gabbard tag-teamed with Tracey to ridicule the nonbinary.)
The alt-journalist sociopath is usually a white male, ousted from traditional platforms because of seasoned incompetence, outright hubris, or routine dereliction of basic journalistic practice. Facts, or even a cogent argument, do not matter to the alt-journalist sociopath. What does matter is the "truth," which is often nebulous and subject to constant revision, but almost always tendered as something outside the purview of mainstream media and thus somehow nobler. This gives the alt-journalist sociopath a certain cachet shared by trendy serial killers or domestic terrorists who appeal to the fawning interest of incel shut-ins. This alt-right leaning crowd tends to represent the vast majority of the alt-journalist sociopath's audience.
By so placing himself as an outlier upholder of dodgy "principles," the alt-journalist sociopath anoints himself as a kind of deity, usually amassing several hundred thousand followers on his Twitter account. Yes, social media is the wild kingdom for this bilious animal. And because there are no zookeepers to administer to the alt-journalist sociopath's unhinged rage and false sense of entitlement, the uncaged alt-journalist sociopath paws at his outsize megaphone rather than rattling the bars of his holding cell. These environmental conditions allow the alt-journalist sociopath to stir his legions of febrile acolytes into vengeful id-driven troglodytes.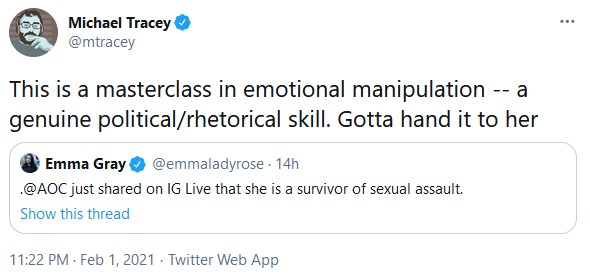 Despite having the wide reach of a cult leader, the alt-journalist sociopath's raison is to portray himself as a frail outlier even as he possesses no compassion or remorse for anyone beyond himself. In 2017, Michael Tracey ludicrously attempted to frame a modest brush from then 79-year-old Rep. Maxine Waters as a "shove" in a pathetic attempt to depict himself as victim.
Two years later, Andy Ngô went further than Tracey and secured fame and admiration from mainstream outlets after experiencing alleged violence during the Portland Black Lives Matter protests. The greatest problem with Ngô, aside from the relentless fabrication of his reporting (of which more anon), is that the details didn't quite add up. Ngô claimed that he had been diagnosed with a brain hemorrhage after being hit with a milkshake mixed with quick-drying cement, but the cement angle was later debunked. Ngô told BuzzFeed reporter Joseph Bernstein, "I don't feel obliged to share my personal medical records publicly to satisfy internet trolls." (Bernstein reports that he reviewed a copy of hospital discharge paperwork confirming that he had suffered from a "subarachnoid hemorrhage.") While no journalist, even dubious ones like Ngô, should experience any form of violence, it's rather remarkable how Ngô mustered such sympathy for being "attacked" by antifa protesters. He secured a $195,000 GoFundMe nest egg from his ultraconservative enablers.
Being a victim is the alt-journalist sociopath's bread and butter. It's the winning lottery ticket that secures him some questionable legitimacy in the media food chain. Yet the alt-journalist sociopath is so self-absorbed that he will never consider the misfortunes, much less the victimhood, of anyone beyond himself. If anything, he goes out of his way to denigrate or disparage anyone whom he perceives as a threat. After Rep. Alexandria Ocasio-Cortez bravely revealed that she was a victim of sexual assault on Instagram Live, Tracey claimed this to be "a masterclass in emotional manipulation."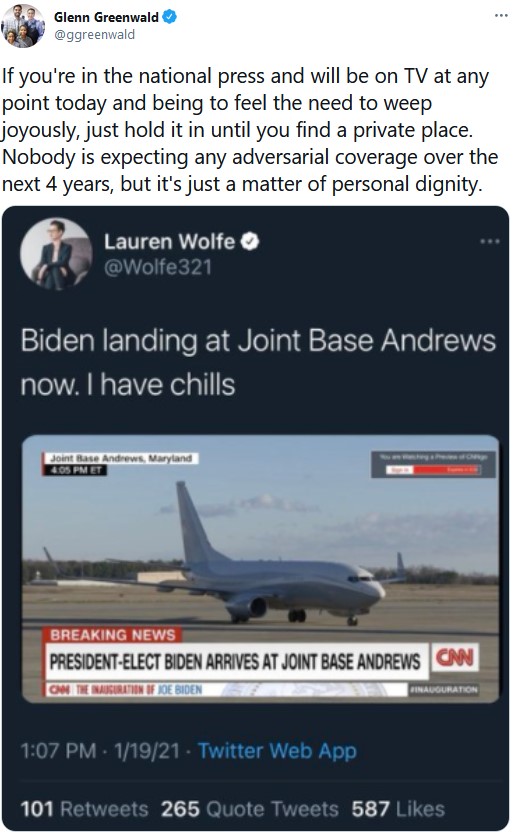 Similarly, Glenn Greenwald inspired a campaign that resulted in New York Times contributor Lauren Wolfe being fired from her job. Why? Because she had the audacity to express that she had "chills" after seeing Biden's plane land before his inauguration. Wolfe's tweet was a relatively innocuous statement. Reporters are, after all, human just like the rest of us. But Greenwald's 1.6 million followers took the catnip and responded with the fierce force of unhinged vigilantes, claiming Wolfe to be a demonic transgressor against journalistic objectivity. Greenwald neither took his original tweet down nor called for the Times to reverse its decision. Because the alt-journalist sociopath is usually a narcissist, Greenwald instead made it about himself, whinging that he bore no responsibility for the results of his reckless tweets and disingenuously cleaving to the great "speak truth to power" lie that all alt-journalist sociopaths champion.
The remarkably indefatigable Twitter account, @TimPoolClips, has tackled Pool and Ngô at length, exquisitely filleting these charlatans down to their oleaginous essence. These two have been highly selective and ideologically convenient about how they frame the "news" they purport to report on. As documented by Jacobin's Arun Gupta, in an article for the Wall Street Journal, Ngô omitted key evidence of a driver striking a protester, claiming his falsely edited clip to be the work of "angry, agitated ingrates and criminals." As Gupta has outlined, Ngô's journalistic liberties have resulted in other conservative outlets becoming emboldened to commit similarly egregious omissions. In a September 2, 2020 YouTube video, Vaush detailed the "Tim Pool Grift" as follows: Tim Pool has weaved a narrative in which has painted himself as "a liberal who is merely criticizing the Democrat Party" throughout his YouTube existence. But Vaush pointed out that the clickbait titles of Pool's videos, often factually inaccurate, were more indicative of a Republican.
In any other world, these agitprop quacks would be laughed off the public stage for their risible anti-intellectualism and tendentious cartoonishness. But it is a regrettable truth that these sociopaths are largely impervious to castigation — in large part because they are regularly in the habit of doxxing and shaming their critics or anyone perceived to be "against" their mission. As The New York Times has increasingly shifted to glossy profiles of insurrectionists (the "Nazis! They're just like us!" school of journalism) and Marjorie Taylor Greene faces no repercussions for expressing the desire to execute prominent Democrats, it's not much of a surprise to see the alt-journalist sociopath thriving quite well. And since the nadir of what now constitutes "journalism" continues to slip lower than any other time in American history (even the notorious James Callender faced consequences!), the question we must ask is this: What will it take for the public to uproot these toxic demagogues from their perches?
2/2/2021 7:30 PM UPDATE:
Glenn Greenwald using baby voice to mock @AOC for talking about the danger to her life on January 6 and for rejecting an alliance with Ted Cruz. "She ruined that movement. Because all she wants to do is attack Republicans and fortify the Democratic Party".pic.twitter.com/gWTS67Yknj

— Idrees Ahmad (@im_PULSE) February 2, 2021
Mere hours after I published this essay, Glenn Greenwald further cemented himself as an alt-journalist sociopath, aligning himself with Michael Tracy's misogyny by belittling AOC's story. He also offered the false and hyperbolic claim, "All she wants to do is attack Republicans and fortify the Democratic Party." This, of course, is a Pool/Ngô style airbrushing of actual history. Ocasio-Cortez tweeted just six days ago, "I am happy to work with Republicans on this issue where there's common ground, but you almost had me murdered 3 weeks ago so you can sit this one out. Happy to work w/ almost any other GOP that aren't trying to get me killed."