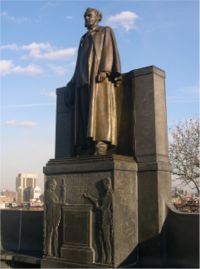 Like many statues nestled along the rectangular trestles of Manhattan's parks, Karl Bitter's bronze depiction of Carl Schurz — situated at the corner of Morningside Drive and 116th Street — is regularly overlooked by many New Yorkers. They walk their dogs. They chat on their cell phones. They rush to important appointments or set out to beat a jogging record. But they rarely stop to observe this rather tall and intriguing figure who remains memorialized.
That's saying something, considering that Schurz is quite vertical in design (he stands nine feet tall), his left foot juts a mite forward, and his portly girth, disguised by a thick and definitive bronze coat and cape, demands attention. To look over the promontory where Schurz is propped, you must walk up three stone steps to get an unoccluded view. But no matter what building your eyes settle upon, Schurz will remain in dogged peripheral vision. Maybe pedestrians are vexed by Schurz's hatless and Germanic form — for what it's worth, he does politely hold his hat in his right hand — invading Harlem's horizontal vista, which, like every Manhattan neighborhood, is now undergoing terminal gentrification. Perhaps to live in New York, the New Yorker cannot look upon the past, but must continue contending with the swift-paced momentum of the present. And if that means accepting glass monstrosities in lieu of charming brick buildings without remonstrance, so be it. But this willful acceptance also extends to figures like Schurz, who reminds us that there was indeed a New York before the present one.
The Schurz statue is unsullied by the verdigris now eating away at another of Bitter's sculptures — that of Franz Sigel residing on West 106th Street and Riverside, currently earmarked for renovation. Schurz and Sigel both have parks named after them. (Karl Bitter, alas, does not. New York reserves its laurels for its heros, not the artists who render the legacy.)
We know that Schurz was a military man, a political reformer, and a journalist. He spent the majority of his life outside of New York, served as Secretary of the Interior for President Rutherford Hayes, moving to the city in 1881, ostensibly to retire. But a man of his insurmountable energies could not settle down. He had twenty-five years left in his life to make a name. And he did. Starting with his immediate rise to editor-in-chief of the New York Evening Post in 1883 and followed by becoming one of the Mugwumps supporting Grover Cleveland the following year. He spoke out against Tammany Hall, drawing enthusiasm for his remarks even as a fife and drum corps passed by.
The first fact that, in our efforts for good government, stares us in the face is the existence of an organization — Tammany Hall — whose very purpose it is to give the city the worst government it dares, to the end of making money out of it. And this organization has been for years, and is now, in full possession of the municipal power.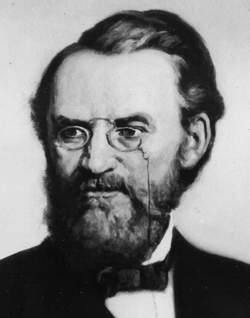 Schurz spoke these words as two friends of his were the top mayoral candidates. He would not let friendships get in the way of principle. Likewise, he did not think much of William Jennings Bryan and also campaigned against him.
As the New York City Department of Parks & Recreation is proud to announce, he was an adopted New Yorker and was often unpredictable with his political choices. Schurz was gleefully antagonistic, and on September 22, 1900, he resigned his Presidencies of the National Civil Service Reform League and the Civil Service Reform Association of New York, observing, "I frankly confess that on account of my position of antagonism to other policies of the Administration, the performance of my part of that duty is especially unwelcome to me." But he could not quite give this ghost up and was elected the following year as President of the Civil Service Reform Association.
When Schurz was buried in Sleepy Hollow in May 1906, he had an audience both rich and poor. Andrew Carnegie and Joseph H. Choate stood beneath one umbrella. The Times described Schurz as "a publicist and patriot." The funeral was attended only by relatives and close friends, but policemen had to stop many who hoped to get a view of Schurz's coffin. It was Choate who ensured that the statue now standing in Morningside Park was completed.
Schurz had a reformist ebullience scarcely seen in the present political age. We now seem to settle for charisma and monoglot messages about hope. Those who do stand out are censored or declared too lunatic for the political arena. This stands in sharp contrast to the words Choate unfurled during the statue's unveiling, "As a leader he did what is so seldom seen and yet so necessary in the upholding of the best in public life. He put expediency above personal and party advantage. He never allowed party to lead him in the wrong direction, and for years he stood alone, an independent figure in party and public life."
At the pedestal before Schurz's form are the words: CARL SCHURZ Defender of Liberty and Friend of Human Right.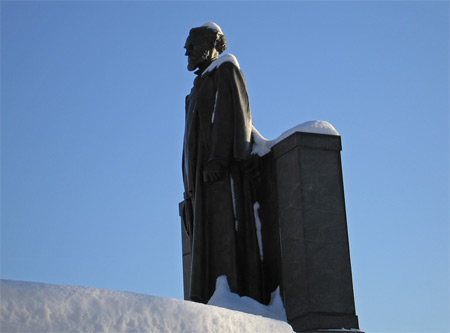 Today, who knows Schurz's name outside of hard-core history buffs, fans of The Who, and curiosity seekers? Not long ago, when I visited Schurz's statue, I observed a broken bottle of Gilbey's upon the faded ornamental brick. The bottle had apparently been thrown at Schurz, and the glass shards glistened more resolutely than the brick. While the bottle, in all likelihood, had been hurled by a cavalier youth, I couldn't help but contemplate whether there was a rejection of Schurz's spirit in the air. History was apparently the work of others. But it seemed to me that it was the other way around.