Florence Williams appeared on The Bat Segundo Show #457. She is most recently the author of Breasts.
Listen: Play in new window | Download
Condition of Mr. Segundo: Contemplating a new career in unique dairy products.
Author: Florence Williams
Subjects Discussed: The history of breastfeeding, formula ushered into the industrial age, artificial selection and breasts, 19th century mothers who raised infants on oatmeal, infant mortality, contaminants within breast milk, the recent Time breastfeeding cover controversy, finding flame retardants in breast milk, why formula isn't a particularly pure product, public breastfeeding laws, lactating moms with pitchforks, phthalates, the difficulty of studying the effects of industrial chemicals on humans, chemicals untested on humans, California's Proposition 65, being helpless in the wake of Beltway indifference to industrial chemicals, the increase in breast cancer, the Komen for the Cure controversy earlier in the year, breast cancer awareness, increased rates of breast cancer in China, Zena Werb's molecular research, the Burke and Hare murders, murdering the poor and selling organs to anatomists, burking, John Landis films, the Anatomy Act of 1832, studying breasts at the cellular level, studying rat mammaries to understand humans, the Dr. Susan Love Research Foundation, ideas on implementing Google Maps for milk ducts, breast apps, knowing more about the cow diary industry than human milk, red wine, the human milk demographic, thought experiments on a human cheese market, making money from human milk, prebiotics, the human breast milk black market, how to confuse vegans with breast milk, imagining a world where one can pick up a gallon of human milk in a bodega, breast enlargement, Dr. Michael Ciaravino and his Houston breast augmentation factory, breasts and patriarchal associations, pornography being ratcheted up, boosting the self-esteem of girls, the virtues of small breasts, Timmie Jean Lindsey and the first breast implant, the problems with objectification from several angles, the problems with early silicone implants, the Dow Corning class action lawsuit, women with breast implants who lose nipple sensation, the marketing of breast implants, the inevitability of living with toxic dust and radiation, and the Stockholm Protocol (and the United States's failure to sign it).
EXCERPT FROM SHOW:
Correspondent: I wouldn't to actually get into the history of breastfeeding. Before the 20th century, of course, breastfeeding was the main method of feeding babies. Then we have postwar life ushering in formula and so forth. It has been pointed out, as you say in the book, by evolutionary biologists that 6,000 human genes relating to lactation are among our most stubbornly conserved ones and, if natural selection as even Darwin has pointed out is in favor of lactation, my question to you is: why is artificial selection through industry so very much against it? Just to get things started here.
Williams: Oh, that's a big question. Well, you know, there have always been women throughout history — even in our deep evolutionary past — who didn't want to breastfeed or who couldn't breastfeed. Of course, many women died in child birth. There were lots of breast infections, as well as other infections related to child birth. And so sometimes women couldn't produce enough milk. And so as I point out in the book, actually wet nursing is one of the oldest professions known to humankind. You know, humans are very flexible and picky in their feeding habits. And some populations wouldn't wean their infants for years. Three, four years. The recent cover of Time Magazine was so shocking because it had a three-year-old on the cover. But, in fact, the human race would not be here if it weren't for toddlers breastfeeding in our deep evolutionary past. And then there have always been populations that wean their young earlier. So when formula came along, many, many women thought this was a great liberating phenomenon and invention. And, you know, they went for it with greater and lesser success, I would say. You know, in the 19th century, women sometimes tried to raise their infants on oatmeal, basically, and cow's milk.
Correspondent: That was sort of the formula of its time.
Williams: That was the formula of its time. It was often a total disaster.
Correspondent: I would imagine oatmeal wouldn't be exactly quite the same constituency.
Williams: It's not really everything you need. And so infant mortality was really high among infants who were not breastfed. Fortunately, now, formula is pretty good at approximating the nutritional needs of the infant. But as we're learning more and more all the time, breast milk isn't just a food. It's a medicine.
Correspondent: It's a way of life.
Williams: It's a way of life. (laughs)
Correspondent: Sorry. But it is actually a way of life — in all seriousness. As you point out in this book, there's also a good deal of adulterated breast milk that is running around right now. We'll get into the whole phthalates and plastic chemicals in just a bit. But I'm wondering. Why aren't we considering this? I mean, I guess your book is a starting point. Or is this, in fact, one of the serious issues that scientists are presently looking into? Or is it?
Williams: Oh yes. It is. You know, breast milk now has been known to have contaminants in it from the industrial world. I tested my breast milk while I was breastfeeding my second child and I found out that I had flame retardants and jet fuel ingredient. Trace amounts of pesticide.
Correspondent: That's what you get for having a pilot career.
Williams: (laughs)
Correspondent: Oh, you didn't have a pilot career! I see.
Williams: Oops! I didn't have a pilot career.
Correspondent: Wow.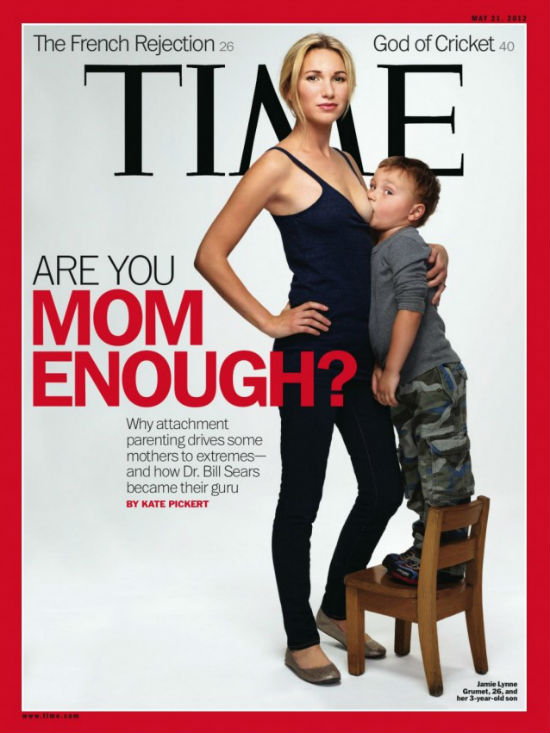 Williams: We all have these substances coursing through our bodies. Unfortunately, some of them really collect in fatty tissue in the breast. And then the breast is really masterful at converting these substances into food. So it ends up in our breast milk. But I would point out that I did continue breastfeeding. I was convinced that the benefits still outweighed the risks. And, of course, formula is not a completely pure product either. It's also contaminated with heavy metals and pesticides and whatever else is in the water that you're mixing it with. And then, you know, of course there are sometimes these scares that come out of China where you find melamine and other weird additives in the formula. So unfortunately, I feel that we've taken this miraculous evolutionary substance and we've degraded it to the point where you can really now almost compare to formula.
Correspondent: So we can, in fact, compare sullied breast milk of the present industrial age with the formula of yesteryear that infants relied upon. Is it safe to say that we can determine which is the greater threat these days? Or what?
Williams: I still think the benefits of breast milk are incredibly profound and amazing. You know, we're just learning more and more all the time about how breast milk boosts the immune system. And there's some evidence that despite all the pollutants in breast milk, it still protects the infant possibly from the effects of other chemicals. You know, it boosts the IQ and it helps teach the human immune system what's a good pathogen, what's a bad pathogen. So there are all kinds of great reasons to still use it. Of course, unfortunately, in the United States anyway, we don't really support breastfeeding. As you can tell from the reaction to that Time cover, we're still deeply uncomfortable with it.
Correspondent: There are still public laws, however, that permit women to breastfeed their children that we've seen more and more of in the last decade or two. I think there's — well, we're in New York City. So we can be a little hubristic about this.
Williams: You can do anything. (laughs)
Correspondent: You're coming from Colorado. So I think it's a little more challenging there.
Williams: Well, there's always these stories in the news of women who get kicked out of the shopping mall because they need to breastfeed their infant. And sometimes that creates this big reaction. And sometimes lactating moms will come and have protests.
Correspondent: Lactating moms with pitchforks. I love it! (laughs)
Williams: Stay away from them. They're dangerous!
The Bat Segundo Show #457: Florence Williams (Download MP3)
This text will be replaced