The Rake has called for Eggers to offer an explanation for his critical flip-flop on Infinite Jest and, having failed to hear back from Pynchon for $49, he's pledged to send a $49 check to 826 Valencia if Eggers responds (the check is pictured below).
In fact, I'll go one step further. I'm in San Francisco. Eggers is in San Francisco. I will be happy to facilitate Mr. Eggers for an appearance on The Bat Segundo Show to talk about his book, What is the What, for a polite and civil conversation.
Except on one point.
At the end of the interview, he must respond on audio to the DFW question and he must respond to any followup questions by me, however tough and challenging, relating to this subject.
Come on, Mr. Eggers, this is easy money for a good cause. All you have to do is explain yourself. Or are litbloggers beneath your munificence?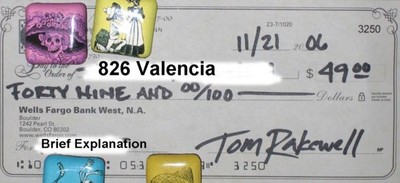 [UPDATE: Matthew Tiffany has pledged another $49. That's $98, Mr. Eggers, and an opportunity to promote your book. All for an explanation!]
[UPDATE 2: The Rake has upped his sum to $109. Hell, this is starting to feel a bit like Jerry Lewis.]
[UPDATE 3: Dave Eggers has declined to appear on The Bat Segundo Show.]