The crazed doom-and-gloom prophets of our world have this troubling ability to occupy the airwaves, becoming strangely confused with qualified experts. Gerald Celente is the latest soothsayer operating on his hunches — now being celebrated on Digg, Reddit, and just about every damn aggregator imaginable.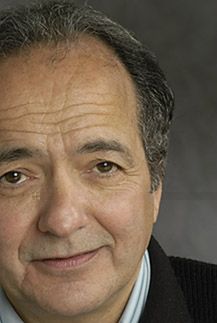 His predictions sound suspiciously similar to the storyline for Brian Francis Slattery's excellent new novel, Liberation, but Gerald Celente, the CEO of Trends Research Institute, is determined to deliver. By 2012, Celente forecasts revolution in America, food riots, and tax rebellions. In four years, America will become an undeveloped nation. Holidays will be about food rather than gifts. Mass hysteria, dogs and cats living together. Doom and gloom.
The media — or, rather, FOX News and conservative websites — is listening to Celente because he "predicted" the 1997 currency crisis in Asia, the subprime mortgage disaster, and the dollar dipping south. But Infowars, a website run by paleoconservative radio show host Alex Jones, is basking in this dystopic news like an AIG executive riding high on Uncle Sam's dime. What's particularly strange is that Infowars hasn't bothered to quibble with Celente's statements, much less point to any of his inaccurate predictions.
How does Celente do it? From Invest in Yourself by Mark Eisenson, Gerri Detweiler, and Nancy Castleman:
According to Gerald Celente, Director of the Trends Research Institute and author of Trends 2000, the key to tracking trends is to read two newspapers every day with a purpose — either The Wall Street Journal or The Financial Times, plus The New York Times or USA Today. Look for stories with social, economic, and political significance, be it about the difficulties older suburbs face or the current currency crisis. (You'll know by the headline or the first paragraph.) Skip the stories that are purely human interest or that are about something that hasn't happened yet (for example, a jury resuming deliberation on a sensational trial).

When a crisis does occur, tune in to the extra in-depth analyses that you'll find in accompanying background pieces probably in more than one of the newspapers. Read them as though you're a "political atheist," Celente recommends — not for what you want or hope, but for what is really going on, not only in your own profession or industry, but for trends that may directly or indirectly shape the future.
Aside from the Dale Carnegie-style language here, much of Celente's "suggestions" seem more like a series of guidelines on how to become a successful "futurist" predicting a good deal of generalist nonsense that scares the shit out of people, using language lifted from a newspaper story's barebones and riding on a few hunches. Of course, it also helps to have an aesthetic touch — something along the lines of a desktop covered with 12 globes, just so you can impress a New York Times reporter who comes by to write a small profile.
Since Infowars could not be bothered to perform even the most rudimentary act of journalism, the time has come to see if Celente's record truly cuts the mustard.
Here you have a history of a man who not only makes his living spouting this generalist nonsense at corporations, but who is listened to by the media. If we weren't all scared shitless, this wingnut would be chased out of boardrooms and newsrooms with pitchforks.
But who needs rational thinking when you have the comforts of defeatism? If you really want to get your dose of passive-aggressive dystopia, just call up Gerald Celente. He's on Line 2 and he'll take your money when you have no faith in humanity or when you don't have a clue about how to do your job. Have him rant in your newspaper. Give him money to advise your corporation. Above all, don't look at history, science, or specific statistics. Because Celente will boil them all down for you with one of his seemingly pithy and mysterious predictions. And he'll be right. Because like a trusted astrology columnist or a two-bit faith healer, Celente leaves just enough room in his answer to wiggle out. And you swallow it every time. Because you're too scared to think for yourself, or do a background check on the guy in the lobby waving his arms.