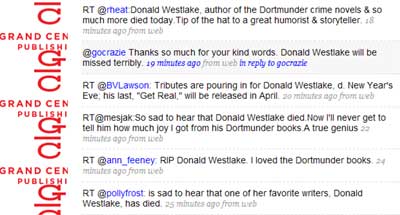 Not less than 24 hours after the news of Donald E. Westlake's death was broken by the New York Times's Jennifer 8. Lee, Grand Central (Westlake's publisher) has seen fit to flood Twitter with endless retweets of what others have written about Donald E. Westlake, while simultaneously promoting Westlake's final novel, Get Real.
How would you like it if some huckster was trying to sell you something while you were attending a funeral? In all likelihood, you would punch the huckster in the face. Unfortunately, Grand Central can't be punched in the face through Twitter.
Adding insult to injury, @GrandCentralPub has been offering a retweet every one or two minutes, polluting all of the collective tweets. So when one searches for "Westlake," one now has to sift through endless garbage promulgated by the Grand Central people. These "marketing efforts" not only deface Twitter's community with crude spam, but they are exceptionally crass and highly insensitive towards the feelings of those who loved and revered Donald E. Westlake.
Other publishers, such as Soft Skull and Algonquin Books, have actively engaged with other people on Twitter, participating in conversations but without any prolific marketing efforts. But Grand Central Publishing simply doesn't get it. Grand Central lacks the maturity and the understanding to view Twitterers as human beings and apparently perceives you as unthinking consumerist sheep. Because of this, I strongly urge all fellow Twitterers to block and unfollow Grand Central. If Grand Central can't sit at the grown ups table, they need to be relegated to the kid's room where their base and tacky efforts will be responded to with the appropriate puerile responses.
[UPDATE: For what it's worth, Grand Central has now apologized, although they have interpreted these feelings as "feedback."]