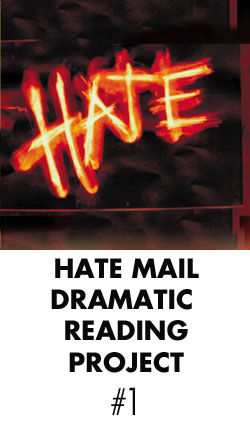 Last week, I learned that somebody really hated my guts. This person never actually told me why. So I sent this person an email with my phone number, inviting the person to give me a call and make amends through civil discourse. I received a most extraordinary response from this individual — one that has quite pleasantly inspired me to start a new audio series. The following clip represents my dramatic reading of this individual's hate mail to me, read in a melodramatic, quasi-Shakespearean style.
I hope to start reading more of people's hate mail. And if you like, I will be happy to read any specific hate mail that you've received. (If you do send me hate mail for potential dramatic readings, I only ask that you redact the names of the individuals.) And if there is enough demand, I may even start reading some of the really stupid emails I've sent over the years to various people.
Click any of the below links to listen.
Hate Mail Dramatic Reading Project #1 (Download MP3)
This text will be replaced