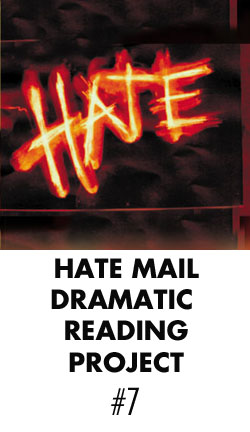 A few days ago, I learned that a former college friend, who had initiated contact with me, had transformed into an incoherent lunatic. My girlfriend has benignly suggested, based on the evidence I have presented to her, that this man was likely a lunatic all along. I'd prefer to give him the benefit of the doubt. But one thing's for sure. His email was loaded with hate, despite the fact that he claimed to be a peaceful optimist.
Therefore, my audio series — Hate Mail Dramatic Reading Project — must continue.
The following clip represents my dramatic reading of the hate mail in question, read in the style of FOX News's Glenn Beck.
I plan to continue reading more hate mail. Again, I will be happy to read any specific hate mail that you've received. (If you do send me hate mail for potential dramatic readings, I only ask that you redact the names of the individuals.)
Click any of the below links to listen.
Hate Mail Dramatic Reading Project #7 (Download MP3)
This text will be replaced
Previous Hate Mail Dramatic Reading Installments:
#6 A hate mail read in the style of a Miss Manners schoolmarmish tone
#5 A hate mail read in the style of Richard Milhous Nixon
#4: A hate mail read in the style of a drunken Irishman.
#3: A hate mail read in the style of a quiet sociopath
#2: A hate mail read in a muted Peter Lorre impression
#1: A hate mail read in a melodramatic, quasi-Shakespearean style