It's been two weeks since I attended a press screening for Unknown, and I am dilatory with my dispatch. But there's been some distinctive quality about director Jaume Collet-Serra I've been trying to pin down. The hope here was that a few extra days of thinking would get me closer. After all, The Stranger's Paul Constant informed me that he received "drunken hate mail for weeks" after he praised Orphan – a movie that I also found to be fun and stylish and needlessly maligned by a few uptight critics.
But my interest quickly got out of hand. Now that I've seen all of Collet-Serra's previous films (House of Wax, Goal 2, and Orphan), and I liked them all, I'm going to put forward the brazen suggestion that Jaume Collet-Serra may be another John Frankenheimer in the making. Like Frankenheimer, Collet-Serra includes several gradients of realist acting in his movies, however half-baked and unrealistic the scripts may be, to accentuate his more tasteful visual balance. Many of the complaints against House of Wax, for example, were leveled at Paris Hilton's one-note acting (and I suspect that her overfrequent media presence in 2005 didn't exactly help matters), but this severely discounted Elisha Cuthbert's more realist performance and Brian Van Holt's melodramatic double role. These complaints also weren't especially fair when one considers Collet-Serra's eye for the camera.
House of Wax: Certainly Collet-Serra's background in commercials and music videos are largely responsible for this marvelous and unsettling opening sequence, in which we are introduced to a psychotic family. Notice the fine details contained within this montage. In the first shot, we see an older woman smoking her cigarette, the jasper angled askew and matching the wax bowl on the right. The table's octagonal nature accentuates this psychology, especially since none of the hands or the cigarettes approach the table at a perpendicular angle. Then in the second shot, we see that the domestic scene is quite orderly. We see cereal poured into a bowl in a manner we might be familiar with. What's unfamiliar here is the cigarette angled up in the air, neatly matching the arm clutching the cereal box. The milk bottle, with its smiling diagram, is also a nice touch, suggesting that some comical order or tranquility might be possible if you stick around long enough.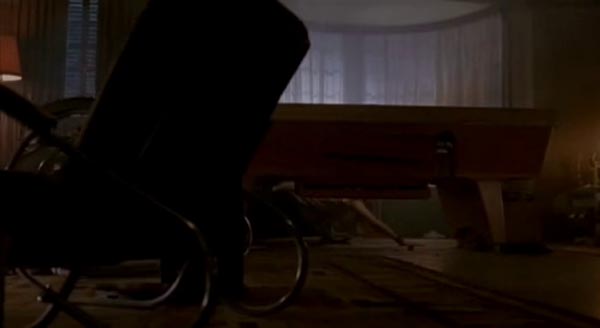 House of Wax: The camera, positioned very low, demonstrates that human life doesn't matter much in Ambrose, the ghost town revealed to be a disturbing museum. We see a woman crawling beneath a pool table (underneath Ambrose's "game") in an effort to escape a mechanic who wants her to be part of this "museum." Collet-Serra, who likes using shallow focus, makes the chair more prominent than the young woman. Even the lamp on camera left registers more than the woman.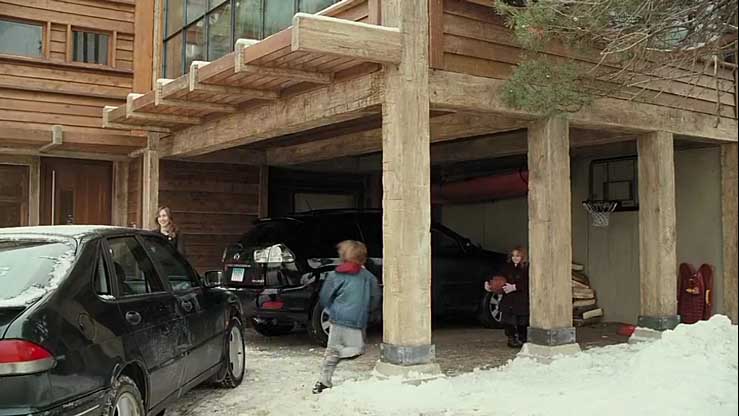 Orphan: Believe it or not, this striking visual is a throwaway shot. Like Tony Scott, Collet-Serra has this tendency to offer a magnificent composition and cut it into a sequence for less than a second. It's almost as if he doesn't want people to know that he's got the chops. Or perhaps we're meant to investigate further with the pause button. What we see here is the Coleman family before Esther's arrival. Daniel runs from camera left to camera right towards Max, deaf and holding a basketball. Aside from the clever way in which Collet-Serra intimates that this family is as solid as the house itself (with mom hidden behind the car and Max very slightly occluded by the column), there's also the muted burgundy (increasingly darker) from left to right: the car's tail light, Daniel's hood midway, and the basketball that Max is holding.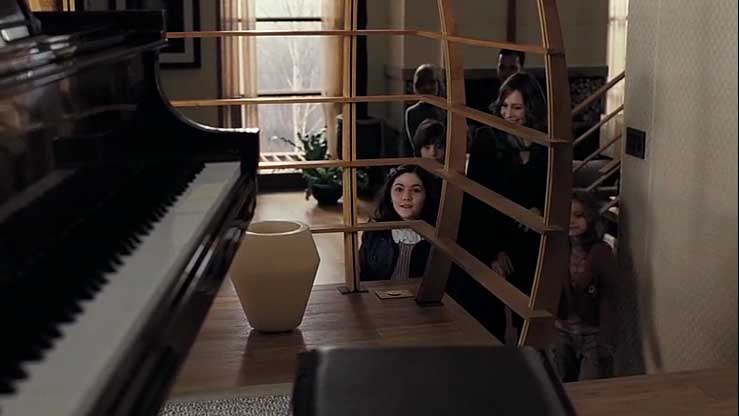 Orphan: Once Esther invades the family home, we see that, unlike the previous shot and unlike the Coleman stability, her face cannot be hidden by any architectural detail. She stares at the piano with materialistic delight. The back window tries to illuminate the situation to the Colemans ("Hey, family! You may have taken in a murderous little girl! Look around"), all clustered in the dark and too ensnared by domestic bliss to see what's in front of them. And just as Collet-Serra placed the milk bottle on the table in the House of Wax opening sequence, we see that he's placed an almost hexagonal vase on camera left.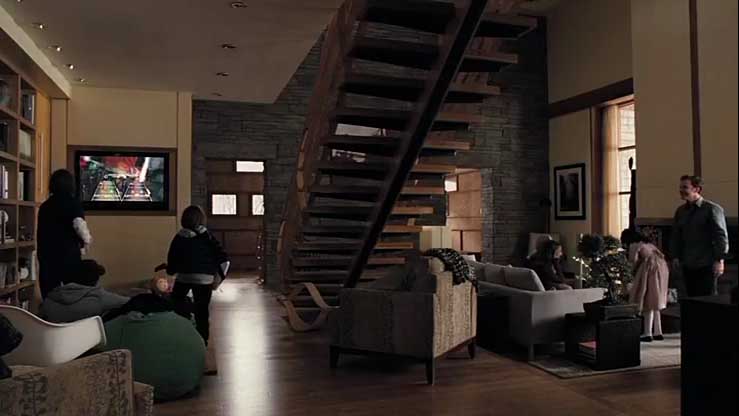 Orphan: This is one of my favorite shots in the movie. Who knew that Rock Band could portray a fragmented family? We see the boys having a grand old time tapping notes on the left. Meanwhile, the Old World girl with the old dress is inveigling her way in at the right. Again, Collet-Serra is careful to include a window near center frame, with its shaft of light trying to convey to the family that Esther is bad news. You wouldn't know from the jagged diagonal staircase and the slightly incongruous textures that the production designer here was the same guy behind Blue Crush.
* * *
Unknown, Collet-Serra's fourth feature film, from a screenplay by Oliver Butcher & Stephen Cornwell, based on a novel by Didier van Cauweleart, is well directed. Like Collet-Serra's previous films, the cinematography is symmetrically stellar, its use of split focus reminiscent of early Brian DePalma (there's one great shot where a body is being dragged away on camera right, while another body stays recumbent is on camera left) and a car chase shot with an idiosyncratic claustrophobia (many of the shots are confined inside the vehicle, but we don't get too many driver's perspective angles). The acting, especially by Bruno Ganz as a former Stasi man, is surprisingly realistic. The script contains an improbable series of coincidences (nearly every character is part of the conspiracy!) and a very forgiving German police force (if you carjack a taxi from an airport, I'm pretty sure the authorities aren't just going to let you drive away). But Collet-Serra's pacing is, for a good stretch of Unknown, so classy and so relaxing that I became more forgiving with these lapses in story logic.
Before seeing Unknown, it had never occurred to me that Liam Neeson was filling in the role once occupied by Harrison Ford. Ford, now a doddering and growling caricature of his former self, once charmed movie audiences as the forceful Everyman we could relate to. The whole "Get off my plane!" business was the point of no return for Ford. But before that, Ford was the star of The Fugitive and Frantic, playing a very believable middle-aged man on the run.
I'm certainly not the only person to have found Neeson's recent reinvention as an action star to be somewhat peculiar. While this very tall slim actor can't drift from his slightly Americanized Irish brogue to save his life, he has carried notable authority in Schindler's List, Michael Collins, and Rob Roy.
But Neeson is also very good at melodrama. Most people forget that Sam Raimi made a marvelous comic book movie called Darkman starring Neeson in the title role. There's a very fun scene in which Neeson is confronting a carnie over a pink elephant, and Neeson plays it so perfectly over-the-top: his voice grating with a gravelly bark, his face spasmodic (thanks to the limited time Darkman has wearing the "Neeson face" in daylight). While Collet-Serra doesn't quite go off the glorious deep end the way that Raimi did in Darkman, one sees something close to this quality in Unknown, when Dr. Martin Harris is trying to persuade people that he is the genuine article.
Consider this question. Twenty years ago, if you had been told a video store clerk that Sam Raimi (director of Evil Dead 2) and Peter Jackson (director of Dead Alive) would be directing some of the most successful Hollywood movies of all time, you would have been laughed out of the store.
Unknown is enjoyable, but it does see Collet-Serra playing it a bit safe. But if Sam Raimi can serve us the gloriously vivacious jazz club scene in Spider-Man 3, then perhaps Collet-Serra's visual panache will branch out in intriguing directions.