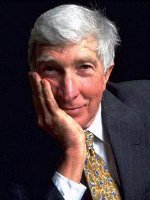 John Updike, author of the Rabbit Angstrom books, has decided that writing about upper-class adulterers simply "isn't fun" anymore and has decided that writing about impoverished characters will be "a welcome change." The New Yorker doyen will be penning a new series of books featuring Joe Angstrom, a down-and-out man from the skids. "He's the Angstrom the rest of the family doesn't want to talk about," said Updike. "And get this: he's black!"
Literary critics remain skeptical. An early draft of It All Happened in East L.A. has made the rounds and some have felt Updike's references to OutKast and the Notorious BIG to be sadly dated. Tom Wolfe, in particular, is watching from the sidelines. "Let's see if the old boy who called my novels 'entertainment, not literature' has the stuff to do the kind of backbreaking research I did for Charlotte Simmons," said Wolfe, whose own take on college life has been called into question.
© 2006, Edward Champion. All rights reserved.