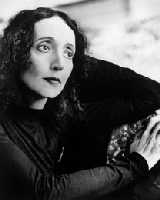 Prolific writer Joyce Carol Oates will write no further stories or books. Not so much a smidgen of prose. "I've had a good run," said Oates. "It's time to let the scholars sift through my work." Oates has had some difficulties adjusting to this new state of being, but she figures that Bill Vollmann and T.C. Boyle can take up the slack.
"American literature has always had its share of prolific writers," said Oates. "I felt that it was time to hang up the boots and give my wrists a rest."
© 2006, Edward Champion. All rights reserved.