I would never accept a publisher's offer to fly to Iceland on their dime to ostensibly "report" upon the author Yrsa Sigurdardottir. Indeed, if I were on staff at a newspaper, crossing this line would lead either to disciplinary action or to being fired.
And yet this was precisely the seedy offer on the table a few months ago. A William Morrow publicist sent around an email, citing Ron Hogan and Shelf Awareness's John Mutter as a few of the "journalists" on board this celebrity junket. I obtained a copy of the email from several sources. Here's the boilerplate that was sent around to newspaper reporters, freelance writers, and bloggers:
William Morrow is working with Iceland Air to do an overseas trip with Icelandic author Yrsa Sigurdardottir, who wrote the chilly, atmospheric mystery "Last Rituals," set in her native country. 3-4 days, looks amazing.
We'll start with a book signing/giveaway at the check-in gate at Iceland Air at BWI and then the media and the passengers on the "Literary Express" will board the plane and visit locations in Iceland that are featured in the book.
The dates are 28Nov – 02Dec and the package will be offered up to the general public as well.
We're looking for placements in the following markets: Washington D.C., Baltimore, Boston and New York (in that order). We already have Ron Hogan and John Mutter as well as contacts from Library Journal and PW going, so we're looking for some more mainstream media. Do you think this is something you could be assigned to write about in a daily newspaper or media outlet in one of the aforementioned markets?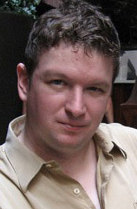 Perhaps the publicist was looking for "more mainstream media" because most journalists have the integrity and the decency to recognize a thorny and clearly unethical scenario. But not Ron Hogan. Really, the only question concerning Ron Hogan isn't whether or not he can be bought, but just what sum he can be purchased for. (In the case of Hogan, it was at least $1,223 — according to a recent Kayak search for the cheapest Iceland Air round trip flight to Reykjavik — and who knows how much for the "Literary Express" and hotel accommodations.)
Hogan, the "journalist" behind GalleyCat who seems to think that a lolcat photo is today's idea of a Wildean riposte, has shifted his comparatively innocuous relationship with publishers of guzzling gratis drinks at parties to accepting free flights to Iceland. He appears to have no problem violating the basic trust between journalist and reader and, as he so enthusiastically reported in the past several days, he was indeed in Iceland. Like the other journalists, he was flown out on the dime of Iceland Air.
Did we get anything from Hogan that questioned or probed? No. This was the kind of unsavory "reporting" one sees from Harry Knowles or the Hollywood Foreign Press Association.
There were posts like this, in which we learn about William Morrow's great philanthropy in disseminating free copies of Last Rituals to all passengers on the daily flight to Reykjavik. Hogan boasts about driving a Prius at Hertz and swimming at an expensive spa. Even if one considers this territory to be fair game, why wasn't Hogan transparent about these costs in his reports?
To be fair, Hogan isn't the only guilty one. As PW's Karen Holt — not exactly an ethical rose garden herself — so happily reported, "the idea morphed into a four-day trip for six journalists, arranged and paid for by Iceland Air, in which the writers spent time time [sic] with Sigurdardottir visiting locations relevant to her book." Passengers on the flight received "free books, cake and champagne."
I sent several emails to William Morrow publicist Danielle Bartlett. She informed me that William Morrow did not pay for the trip and that I should contact Iceland Air, but she wouldn't answer questions about whether she considered this gesture to cross the line of publicist-journalist relationships. Emails to Iceland Air were not returned. I have also emailed Iceland Air spokesperson Debbie Scott and asked a few questions. If I hear anything back, I will report my findings.
But one thing is clear. Whether you're someone who writes for print or online, if you accept someone's money and then proceed to write about something without questioning or examining it, preferring to report on how you were wined and dined, you have no business calling yourself a journalist. And yet "journalist" seems to be a noun that Karen Holt is quite attached to.