[UPDATE: In case it wasn't clear, this post, as was everything else posted on April 1, 2007, was a false report. I have appended this note because humorless representatives of Mr. Scorsese have contacted me.]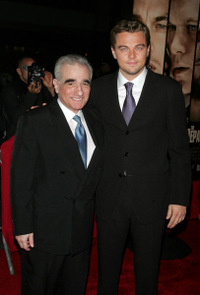 Due to a last-minute scheduling conflict, director Sam Mendes has been replaced by director Martin Scorsese for the upcoming film adaptation of Richard Yates' Revolutionary Road. Stars Leonardo DiCaprio and Kate Winslet are still attached.
"I'm the only guy who can direct Leo," said Scorsese, who is now working on a new script with Goodfellas screenwriter Nicholas Pileggi. "We're going to turn this into an unforgettable movie."
Scorsese and Pileggi plan big things for this star-studded adaption, including a "re-imagining" of the book's opening community theater scene, which will now end in a violent bloodbath, leaving the Wheelers the only people standing, as well as 40 minutes of two-lane highway footage interspersed throughout the film. The Rolling Stones' "Gimme Shelter" will once again be used to enhance pivotal dramatic moments.