Nacho Vigalondo appeared on The Bat Segundo Show #254. Vigalondo is a filmmaker who is most recently the writer and director of Timecrimes, a film that opens in New York and Los Angeles on December 12.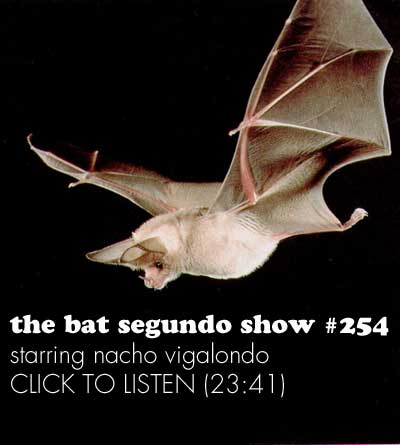 Condition of Mr. Segundo: Searching for future Bats.
Guest: Nacho Vigalondo
Subjects Discussed: What to expect when attending one's first press day in New York, being isolated from the Hollywood scene by making films in Spain, unexpected attention, Darren Aronofsky's The Wrestler, the current speed in adapting comic books, Mark Millar, the Timecrimes remake, the pink bandaged head as an old Universal Horror motif, finding the monster within the movie, writing a script out of sequence, Steven Zaillian, trying not to bore the audience, showing the ridiculous side of the situation, using the best bits of Karra Elejalde's cinematic career for the different Hectors, the influence of fashion choices upon performance, making a movie work in a natural way, the criticism of "improvisation," criticizing the reasons behind Chica's nudity, not explaining everything within a movie, the tendency for music to blare throughout every environment, learning from Hitchcock, practical locations vs. planned sets, and making a timeless movie.
EXCERPT FROM SHOW: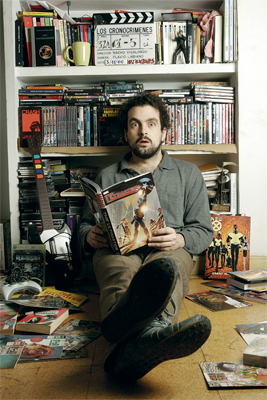 Vigalondo: When you're writing a script, sometimes the script is put into a nightmare. Sometimes, it's giving you some gift. And in this case, when I was writing Timecrimes, I found a monster inside the story. But the story itself gave me the monster. I needed someone with a hidden face, with a scissors on the hand. So I found out that the story was building a monster. A monster that had these classical resonances, as you are telling. So I feel so fortunate. Because when you have a monster in your movie, the movie gets better most of the time. Every movie with a monster is better than the same story without the monster. You can apply this to all the other — to every example. I don't know. If Million Dollar Baby had a monster, it would be a better film.
Once you find a monster inside your film, well, in my case, it's something you have to celebrate. For two reasons. It's a monster that sounds like a Universal classic film monster. And at the same time, it's a pretty cheap Halloween costume. If the people like your film, they can disguise as the big mummy with little money on the bandages and the scissors. So if you want to dress like Freddy Krueger, it's more expensive than my monster in my film. So it's like giving something to the people. In depression times, giving cheap monsters to the people is something I really appreciate. (laughs)
BSS #254: Nacho Vigalondo (Download MP3)
This text will be replaced
© 2008, Edward Champion. All rights reserved.