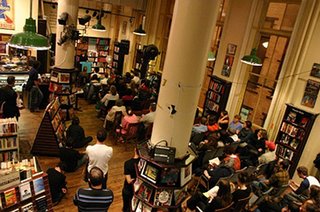 The National Book Critics Circle has announced a number of exciting new panels that should keep literature alive and exciting in this age of declining newspapers.
Why You Should Be Jane Ciabattari's Bitch
April 9, 2009, 7:00 PM-10:00 PM.
Three-hour worship service
This exciting seminar, which will feature Powerpoint presentations and canned coffee donated from a homeless shelter, will explicate in great detail why all NBCC members should send their tithes to NBCC President Jane Ciabattari. Participants are expected to supplicate to Ms. Ciabattari at every minute, sacrificing their children at the designated altar and nodding their heads in agreement. If you have an independent thought, rest assured that you will conform to the NBCC's philosophy at the service's end. (Special Kool-Aid will be provided for those who have difficulty capitulating to NBCC philosphy.) The doors will be locked so that nobody can leave.
Those Fucking Bloggers
April 10, 2009, 3:00 PM to 5:00 PM
Two-hour lecture
We've scheduled this lecture early, because we realize that most of the people who loathe bloggers are over sixty and go to bed early. But if you don't know why those fucking bloggers are evil, then we will explain to you what your role will be in the upcoming media jihad.
The Entitlement of Book Critics
April 10, 2009, 6:00 PM to 7:00 PM
One-hour panel
The NBCC has gathered together some of its smuggest critical voices in the country under one roof. At this enthralling panel, we will discuss why the established book critics should be entitled to any and all gigs. We'll also demonstrate how to keep some of the more emerging critical voices out of the newspapers. Books editors will show you how to create a blacklist and how to recognize contributors who may bring an iota of passion to their pages.
The Importance of Panels
April 11, 2009, 2:00 PM to 4:00 PM
Two-hour discussion
If you don't yet understand why panels are important, well then you will by the end of this discussion. We'll show you how to keep a panel dry and uninteresting. We'll also demonstrate what you can do to keep the crowd snoozing. Standing room only.