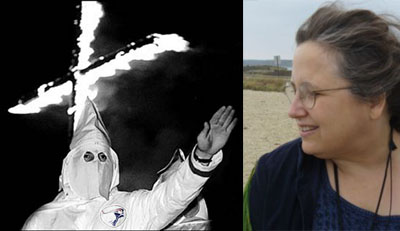 In the latest Racefail development, bloggers have uncovered numerous connections between Patrick and Teresa Nielsen Hayden and the Ku Klux Klan, further calling into question the paucity of non-Caucasian speculative fiction writers. In May 2008, the Nielsen Haydens attended three KKK rallies in southern Kentucky. Clandestine recordings of these events reveal that the couple were among the more vocal participants in the "Tar the Darkies" part of these rituals, with Patrick shouting, "Yeah! I'd do that to Delany," and Teresa reportedly crying, "It's a good thing that Octavia is dead!"
It remains unknown whether the Nielsen Haydens's extracurricular activities had any bearing on their editorial decisions at Tor. But Teresa Nielsen Hayden has been reportedly taken a hiatus as Boing Boing moderator as these claims continue to be investigated. This temporary suspension has not stopped her from leaving the following comment on a post titled "DRM is Evil! It Can Never Be Stated Enough!":
W r nt glty! Wht w d n r prvt lvs hs n brng n r prfssnl dts.