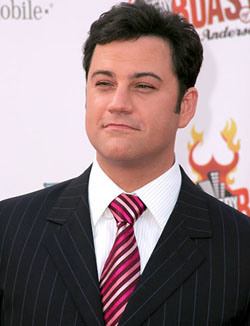 Amazon's Jeff Bezos and Jimmy Kimmel announced a new strategic partnership for a device that they have styled the Amazon Kimmel. Both parties believe that there continues to be unprecedented interested in anything that Jimmy Kimmel is involved with, and they have decided to test the marketplace.
The Amazon Kimmel will retail for $399 and contain every known image, video clip, and article that references Jimmy Kimmel. The long battery life, together with the lack of an on-off switch, will ensure that all Amazon Kimmel customers are constantly subjected to Jimmy Kimmel. The Amazon Kimmel can be programmed to lull customers to sleep with Kimmel's voice. There will also be an optional Sarah Silverman app that can be purchased for $49, which will break up the relentless Kimmel bombardment with various messages explaining why Silverman is such a treacherous bitch.
Amazon is still negotiating with Ben Affleck over the Amazon Kimmel's potential as a user-interactive sex device. It is believed that any reference to Matt Damon will be elided from the information available.