[This is the fifth in a series of dispatches relating to the 2010 New York Film Festival.]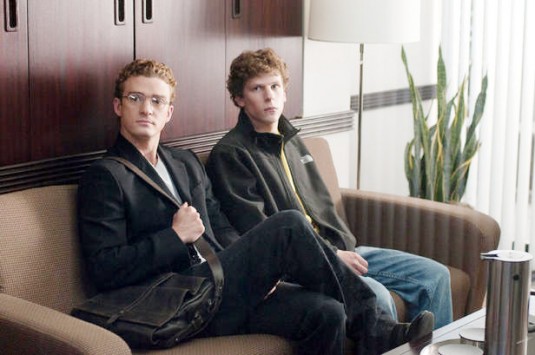 A biopic which deals with a dead VIP is one thing, but the unceasing celerity of our present age demands art that skewers the self-important monsters enforcing their limited and autocratic viewpoints on the way we live (and, in the worst of cases, profiting from this egotism). The Social Network, which is one of David Fincher's best movies and is among the sharpest material that Aaron Sorkin has ever written for film or television, is a highly entertaining movie possessed of such stones, with one endlessly intriguing, Asperger's-like, socially clueless, self-made Napoleon (that is, Facebook founder Mark Zuckerberg) as its central character. It is so quietly yet deliciously brutal in its depiction of the world's youngest (and loneliest) billionaire that the real-life Zuckerberg may have a tough time finding new bona-fide friends who don't happen to share his continued entomological view of the human race. (Curiously enough, earlier this week, it was discovered that Zuckerberg donated $100 million to the Newark public school system, complete with the apparent allegation that Zuckeberg had intended to do so anonymously. The philanthropy's suspicious timing, coming a week before The Social Network's release, carries the telltale whiff of a convenient distraction. The movie couldn't come at a better time.)
Yet one is tempted to pity both the real-life Zuckerberg (and his cinematic representation) for this behemoth's sheer failure to comprehend the totality of his possibly assholic nature. (In the film's opening scene, Zuckerberg is literally declared an asshole at the aptly named Thirsty Scholar Pub. Later, he is told, "You're not an asshole, Mark. You're just trying so hard to be." Perhaps due to legal reasons, the film chooses to dance around the question of whether Mark Zuckerberg really is an asshole. Or maybe Fincher and Sorkin wish the audience to determine its own answer. Unlike Facebook, "asshole" does not have to be a variable.) Whether Zuckerberg is an asshole or not, at film's end, this Little Lord Fauntleroy is very much alone, despite the 400 million users on Facebook. He faces (if you'll pardon the pun) a woman who can size him up without a computer and who can deactivate his likability (a variable just as applicable the courtroom, but one that doesn't require a logarithm) with a single question. And not even the laptop or the considerable fortune that Zuckerberg clings to can save him from the pitiful truth of his solitary and outmoded existence.
I mention this plot development, while trying to be coy about this conclusive exchange, simply because I fear that Fincher and Sorkin will face some criticism for the way that women are treated in this film. They may be intending to remark upon the throwback "gentlemen from Harvard" virus that managed to seize the tech industry in the last decade (still seen in such overblown conferences as Tools of Change that feature more dicks, both literally and temperamentally, than a stag club or a fraternity in an elitist Ivy League school). Yes, there are women who practice law in the two trials framing the flashback narrative. But the film does make the choice to portray women as groupies who blow Zuckerberg and co-founder Eduardo Saverin in bathroom stalls. When two of these women ask what they can do during the early days of Facebook (then known as TheFacebook), it is implied that there is no role for them. And the men behind these dot coms (including Napster's Sean Parker, also depicted in the film, of which more anon) have difficulty remembering the names of the women they sleep with – an interesting irony, in light of Facebook being built upon hard objective data and its later efforts to seize control of the words and images generated or shared by its users.
Thus, there can be no doubt that this misogyny originates from Zuckerberg, and that it was this very atavistic attitude that fueled Facebook's massive development. With Sorkin wisely quoting Zuckerberg's real-life LiveJournal entries (in which Zuckerberg called his ex-girlfriend a "bitch" and compared her to an animal), this is one of many brilliant instances in which Sorkin uses airtight facts (gleaned from Ben Mezrich's The Accidental Billionaires and, as Sorkin intimated in the post-screening press conference I attended, independent research from anonymous sources) to not only reveal an asshole without naming him as one, but to damn a world that, as Joanne McNeil has recently observed of the Apple Store's glass staircases, prefers clean and functional aesthetics to sound moral judgment.
There are some very minor moments in which Fincher and Sorkin telegraph some of these points a bit too much, particularly with the needlessly ironic casting of Justin Timberlake as Napster founder Sean Parker. Timberlake is a charming enough screen presence, but he simply doesn't have the sheer moth-attracting neo-blueblood light that the fast-talking Jesse Eisenberg has as Zuckerberg, much less the Harvard boy-next-door aw-shucks naivete of Andrew Garfield as Saverin. (Saverin, a business major, is so intoxicated by Facebook – even after Zuckerberg cuts loose to California without him – that he doesn't even read the legal papers he has to sign, little realizing that he has been screwed over by Zuckerberg, his only real friend and co-founder.) But I think Fincher is smart enough to be cognizant of this imbalance. During the first meeting between Parker, Zuckerberg, and Saverin, Fincher stages a good portion of the scene with the dialogue remaining silent. Appletinis and enticing sushi are brought to the table, as yet another jagged yet rocking music cue from Trent Reznor and Atticus Ross plays, leaving Timberlake to bounce war stories off the wild-eyed admirer Zuckerberg. It is Parker who serves as an encouraging older brother figure to Zuckerberg (curiously, the film doesn't mention anything about Zuckerberg's family), who offers perfectly sound advice ("Lose the 'The,'" he says during the TheFacebook.com days), and who sees entrepreneur Roy Raymund's suicide not as a parable, but as a tale to inspire empowerment.
But I'm being needlessly pedantic. Really, this is an excellent movie that no self-respecting filmgoer of any type should miss. The Social Network breezes by at such a breaknecking speed that I truly believed a mere thirty minutes had transpired when The Beatles's "Baby You're a Rich Man" played during the closing credits.
Some might see The Social Network as "a departure" for Fincher (as one extremely idiotic journalist suggested at the post-screening press conference, leaving a visibly flustered Fincher to point out politely that he doesn't work this way), because the film limits its technical tomfoolery to actor Armie Hammer playing a pair of identical twins (Cameron and Tyler Winklevoss – the "Winklevii," as Zuckerberg condescendingly calls them – who saw the conceptual framework for their Harvard Connection stolen by Zuckerberg). These same people have forgotten that Fincher has managed to get great performances out of his actors (Robert Downey, Jr. in Zodiac, the cast of Seven, Brad Pitt and Edward Norton in Fight Club) and remains quirky enough to cast at least one musician in a supporting role (here, Timberlake; in previous films, Dwight Yoakam in Panic Room, Meat Loaf in Fight Club, and so forth).
Fincher has shot The Social Network on RED, an imperfect but evolving digital camera system that feels right for Facebook's inevitably ephemeral legacy. Cinematographer Jeff Cronenwerth keeps the first hour's palette confined to Bostonian browns and reds. A chicken ensnared within a cage recalls the incarcerated bird within Erich von Stoheim's Greed. There's a rapid-fire rowing race montage midway through the film that recalls Fincher's early music videos, but it also signifies a slight narrowing of perspective for any of the audience members who haven't yet caught onto one of the film's visual motifs. For as the Facebook story unfolds, Fincher includes many shots in which the backgrounds are deliberately out-of-focus, a vicarious signal to the audience that Zuckerberg and his enemies can't see much beyond their own hollow bubbles. (This includes one of Sean Parker's conquests, in our first introduction to him, removing her clothes in the fuzzy background. And it's also used quite well in another scene in which a silk scarf burns in a background blur.)
I haven't yet commended Aaron Sorkin's language. Sorkin, as usual, writes in a way that is, well, undeniably Aaron Sorkin. Like Mamet's dialogue, Sorkin writes more with parallel precision than absolute verisimilitude. But it works incredibly well here. Sorkin finds a remarkably adept balance between his usual pursuits of heady-sounding but ultimately pedantic subject matter (the film starts off with a consideration that the United States has more people with genius IQs than China) and Matt Zuckerberg's arrogant technobabble. This results in some great zingers that go well beyond the "I believe I deserve some recognition" now made famous by the trailer.* "Did I adequately answer your condescending question?" replies Zuckerberg in condescension to an attorney during a deposition. Larry Summers is depicted in one scene, when the Winklevii desperately petition him to seek early redress for Zuckerberg's theft. "Punch me in the face," he says to his secretary upon hearing the Winklevii's feeble request. "You want to buy a Tower Records?" says Parker to Saverin, when attempting to demonstrate consequential change that the failed Napster was able to make.
So The Social Network isn't just that rare film where popular and critical audiences will likely leave the theater happy. It's very much a film of our times, for our times. It's a near-perfect synthesis of pitch-perfect direction, great writing, and incredible characters. It's a gripping two hour experience depicting the pleasures and pitfalls of living in a digital world, but, unlike its subject, The Social Network lets its audience question the authority, and, in so doing, respects them.
* – As an aside, considering the recent YouTube and Twitter parodies, I'm wondering if any movie trailer has generated nearly as many homages in recent memory.