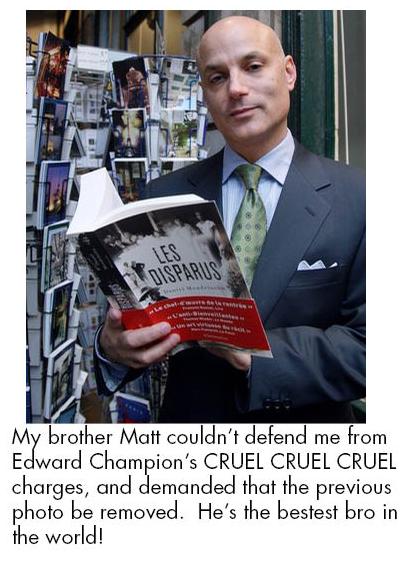 I observed the following on the subway home on Wednesday night (at approximately 10:30 PM):
A burly man reading a science fiction novel (spaceship on cover, title and author occluded)
A middle-aged woman studying her Playbill
A man in his forties doing the New York Times crossword
Two additional people (man and woman) studying Playbills
A woman reading US
A man, approximately 30, reading a wedding magazine (with his bride-to-be reading over his shoulder)
A twentysomething reading Metro
An MTA worker reading a John Scalzi mass-market paperback
A man, approximately 40, reading Newsweek
A thirtysomething man reading the Voice
A guy who was roughly 30 reading the Daily News with iPod earbuds hooked into his head
A woman reading US News & World Report
A woman in her 40s reading The Economist (side note: she wore bright golden heels and fiercely turned the pages of her magazine)
A bald man in his early 30s, his lower lip upturned into serious intent, reading a Star Wars hardcover
A woman in her mid-twenties reading an unidentified mass market paperback
A man in his late forties with a strange beret reading The Onion (strangely, he did not laugh once)
A twentysomething woman writing in her notebook, her legs folded up, taking up two seats
A man with dreads reading an issue of Better Homes and Gardens
Approximately 54 people who were not reading, with 24 of them talking with each other, two of them making out like libidinous bandits, and 10 dozing off. This left about 18 people who weren't reading at all, staring into space or otherwise just waiting for their respective stops. (Additionally, one very attractive woman in her late twenties, observing that I was taking notes, gave me a big smile and unfastened one of the top buttons of her blouse. I presume that she did this because she didn't have any reading material. I blushed and moved to the other end of the car.)
So here we have 19 people reading on a late evening. Not a bad number at all. And while this data is empirical, this is a bit better than the jejune empiricism rattled off by Daniel Mendelsohn at the New York Public Library earlier in the evening.
"You never see people reading books, magazines, and newspapers on the subway," said Mendelsohn. He offered this claim because he personally never saw anyone reading on New Jersey Transit. Which led me to contemplate just how frequently Mr. Mendelsohn used the subway and how he arrived at this conclusion. Cavalier instinct, one presumes. What one wants to see, one conjectures further. Whatever the motivations, this was just one of many foolish sentences uttered by Mendelsohn before a crowd. Despite the sold-out audience, the house seemed stacked against the idea that people weren't reading. And it was a telling sign that even moderator Pico Iyer had to confess to the audience, "You're almost suggesting with your presence that the book has a future."
Mendelsohn was there with Iyer and James Wood to answer the question, "Does the common reader exist in our world of spitting screens?" But the words "common reader" — meaning that type of reader I observed on the subway — never came up again during the discussion. As such, the conversation was something of a missed opportunity, with the usual prattle about blogs and literary posterity subbing in for crackling literary discourse.
Iyer lobbed a number of semi-thoughtful softballs to these two noted book critics. He observed that "broken" was in the title of both Mendelsohn and Wood's books and asked Wood if he wrote about any subjects other than literature. The answer was no. Wood noted that while, for example, he knew about music, he felt unqualified in some way to write about music, and that his energies were now focused exclusively on books. He quoted Kierkegaard: "Purity of heart is to will one thing." He noted that sometimes he could choose books for review and sometimes the books were chosen for him. Talking about his most recent book, How Fiction Works, he pointed out that when he was 20, he wanted a writerly text that served as a general guide to the world. And aside from Kundera's three critical works on the novel and the more dated E.M. Forster volume, Aspects of the Novel, he couldn't think of another contemporary book that solved this problem, that provided "the help that one needs." "One needs company," observed Wood. But that evening, he did find cheery comrades in Iyer and Mendelsohn.
Mendelsohn then said that he wished he had a conscious plan for what he did, but he didn't. He entered book reviewing because of his training as a classicist. Indeed, "training" was one of Mendelsohn's key crutch words that evening. He observed that a good critic needed to look at everything that surrounded a book. "You don't just read Homer and not look at Bronze Age implements," he said. "You can't focus on Euripedes and not know about the Peloponnesian War." As a testament to his proclaimed powers of context, he pointed out how he had played the 9/11 card when writing about Alice Sebold's The Lovely Bones.
But if a real critic requires scope, why then did Mendelsohn speak in such an uninformed way about the blogosphere? When Wood and Mendelsohn were asked about how the critical community had changed in the past 40 years, Mendelsohn said that the critics of yesteryear "never had any competition. There wasn't 30 million people with laptops telling us what they think of Moby Dick." Mendelsohn, with the finest elitist hauteur that 2004 had to offer, bemoaned the idea of not knowing who to trust. "Now for the first time, anyone can publish." And while he was careful to delineate that the Internet is a printing press, neither good or bad, he certainly had it in for blogs, declaring that there was no authority and no responsibility. "Why have a thing that's wrong buzzing for 30 million?"
In fairness to Mendelsohn, I actually do agree with him that we've now reached a point where the blogosphere should strive for accuracy. This very issue was indeed a talking point when I interviewed Markos Moulitsas for The Bat Segundo Show. But if Mendelsohn desires scope in criticism, why then was he not so content to practice what he preached? He kept tossing around this random "30 million" number, as if every blog received a mass audience.
"It's like me opening a blog on brain surgery," said Mendelsohn. He didn't believe that what he styled opinions were true criticism. "You can't just say anything about anything," boomed Mendelsohn, who then declared that he wouldn't dream of publishing without rigorous training.
Let us ponder the delicious irony of that last sentiment. Here is Mendelsohn, a man who is trained in Classics, deigning to put forth an opinion on technology. And if Mendelsohn is trained in Classics, does this not then disqualify him from writing about contemporary literature, theater, or Oliver Stone? After all, he is not trained in these subjects. If he is to remain, by his own definition, an authentic critic, should he not then shut his trap when it comes to blogs? Or on any other subject that he is not "trained" in? If by his own admission, he should not write about brain surgery, then surely he should not gab about blogs. But Mendelsohn did point out that he had bought an Amazon Kindle for a relative and suggested, perhaps jocularly, "I guarantee in 100 years, that's what he'll be reading on."
When a question came late in the evening from the audience about whether the critic could truly judge a novel that its author understood better than the critic, both Mendelsohn and Wood agreed that this was a moot point. Said Mendelsohn, "If a critic can't judge [a film] because he's not the filmmaker, then how can the audience?" By this measure, if a "trained" critic understands a book as much as an "untrained" critic (a blogger, for example), then should the questions of qualifications even be an issue? Does a critic really even need to be trained? Should not the criticism itself be the thing that matters?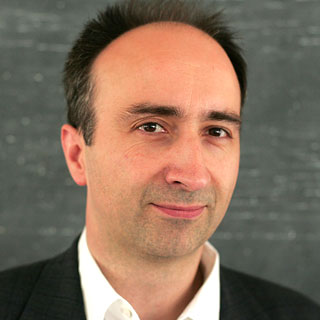 Wood offered some resistance to blogs, but confined his gripes to comments. "There, I think the rule is sanctioned ignorance," said Wood. And while he outlined a generalized pattern of how people react to a review that I felt fallacious, the difference between Wood and Mendelsohn is that the former was willing to give the format a chance and try to understand it, while the latter was happy to nuke the site from orbit like an uninformed cretin.
There were some notable differences between the two men about criticism. Wood pointed out that when reviews for his novel, The Book Against God, had come out, "I was relatively untouched by them." He did, however, point out that he took it a bit personally when people read him wrong. He said, "I think you can't be a critic unless you're very, very curious," although he suggested that he lacked that curiosity. He cited Alex Ross as a prime example of a good curious critic. He also observed, "If I'm a slightly sweeter critic than I used to be, it's because I live with a novelist."
Mendelsohn expressed reservations with the idea that critics are considered "a slightly lower level of life." "I think it's insulting if you're worried about the feelings of the author. The feelings you should be worried about are in literature." Wood responded to Mendelsohn, "I may feel it more acutely than you do, the hurt feelings of the author," but he said, "In principle, this is not one's concern." But Wood did point to Mary McCarthy's review of Dorothy Valcarcel's The Man Who Loved Women, pointing out, "It's so blithely disdainful in the end." Weighing the review against Valcarcel's agonies of producing this book offered a textbook example of what to consider as a critic. Wood also pointed to Hans Keller's review of Anton Karas's theme to The Third Man. Keller initially hated the theme, but found it hard to get out of his head. Keller declared, "As soon as I hate something, I ask myself why I like it so much."
Mendelsohn noted that he only wrote about things that were interesting to him. "Critics write because they love their subject. They don't care about people." And yet despite "not caring," he also pointed out, "I don't think anyone wakes up in the morning and says, 'I'm going to put one over on someone.'"
On the subject of literary posterity, Mendelsohn noted that one of Euripides's well-received plays during his time, Orestes, isn't read by anyone anymore, "except people like me." Wood demonstrated slightly more insight into the subject by observing what Andrew Delbanco had observed in his Melville biography: There's only one reference in the whole of Henry James to Melville, and that's as a name on a list of Putnam writers.
Wood suggested that the present time was a ripe one for criticism, pointing out that there were numerous outlets for long-form criticism, that when Ian McEwan's Saturday came out, there were a number of 3,000 to 4,000 word considerations of the novel. But he did not address recent newspaper cutbacks, nor did he consider how multiple reviews of the same book took away precious column inches from other books.
Close to the end of the conversation, Wood noted of the evening's talk, "Here we have chats easily parodied by Monty Python." He was also careful to point out that he was not in the best position to judge the state of reading because he was surrounded by literature grad students at Harvard who were excited about reading and writing. He attempted rather clumsily to offer a baseball metaphor, but won a few points from the audience for trying.
Regrettably, Iyer, who truly tiptoed more than he needed to, did not bring up a very important question for these two gentlemen: namely, their preferences for realism and modernism at the expense of genre and postmodernism. Iyer did allude that he had been waiting ten years to talk Pynchon with James Wood, but why didn't he last night? DFW did come up, phrased through a clumsy question from the audience about whether the suicide represented a "literary gesture." But the question's poor framing prevented both critics from answering with any perspicacity.
The conversation suggested to me that Wood had more nuanced thoughts about criticism than Mendelsohn did, but that both men might be better served by expanding their repertoire.