Long-time readers of this site know that we've often held Sam Tanenhaus's feet to the fire. But with Rachel Donadio's latest essay, it's occurred to us that Donadio, perhaps working independently of Tanenhaus, may be one of the major problems with the NYTBR. While we applaud Dwight Garner's "Inside the List" columns, welcome David Orr's "On Poetry" (now regrettably behind a Gray Lady paywall), and believe Liesl Schillinger to be one of the NYTBR's few assets, we suspect that the NYTBR's very particular snobbish tone has much to do with Donadio.
Like most snobs of this ilk, Donadio is a writer who basks in reaching conclusions no more original than those of a struggling english comp student (witness this insulting review of a Berlusconi book; Berlusconi polarizes, who knew?). Donadio's efforts to sound sophisticated frequently backfire (witness this elementary error in French; the Times, of course, "regrets the error"). And like most snobs, with Donadio, there is a needlessly triumphant sense of accomplishment in her reviews ("Time will tell whether McDonough and Braungart will make eco-skeptics eat their words."), as if she has just won a spelling bee and is primed to wrest the prize from a PTA volunteer (or worse, the crying kid who came in second place).
So while we no longer keep up the Tanenhaus Brownie Watch, we are pleased to introduce a new series, which we hope will help everyone in understanding what makes this banal retentive writer tick.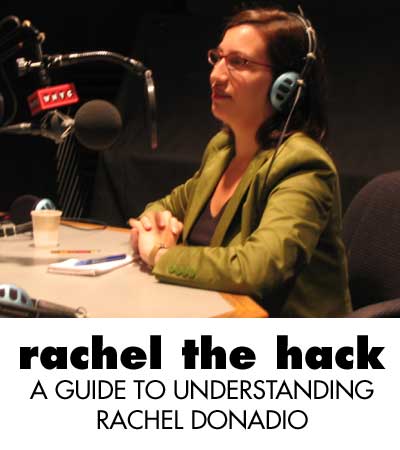 We plan to keep an eye out for all future Rachel Donadio bylines. And unlike Ms. Donadio, we'll offer substantive examples which demonstrate why Donadio may be the most mirthless book reviewer working in New York today.