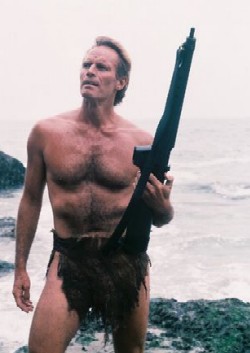 They did it. They finally…really did it. Those damn dirty apes started playing around with this Internet thing and revived it. And because Cornelius and Zira know that I can speak, they now have me blogging, much like the litbloggers once did. I suppose in six months, they'll be running the place.
But oh how strong we thought we were! A sampling of yesterday's headlines, if you will. Imagine me needing them. Back on Earth, or at least the Earth where I came from, I never did.
Fighting off the gorillas single-handedly is enough of a problem for me. My fellow astronaut friends are dead. I have only Nova's beauty left. I suppose that's enough solace, but can a man find love like this? Can a man survive in a nuclear wasteland knowing that he's the last of a race declared inferior?
I'll avenge the human race. I'll stop these goddam apes if it's the last thing I do. And if that means sacrificing books in the process, so be it!