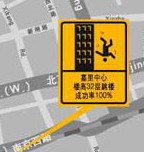 The Shanghaist has uncovered this helpful map for anyone looking to commit suicide in Shanghai. Fourteen areas are listed. Personally, I admire the over-the-top black icons against yellow-orange.
The gang over at the Shanghaist hasn't determined who authored and compiled this map.
(via MeFi)
© 2005, Edward Champion. All rights reserved.