Jeff points to the sad honest truth. The Pixies are sellouts. Big time. Their ticket prices are aprocryphal (anywhere from $35-60 a show). And this concert rider illustrates that the Pixies are no different from any other bloated band making the rounds.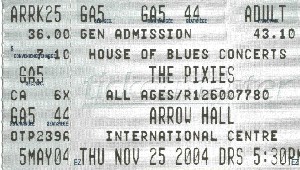 "Veggie platter with hummous and sour cream dip?" Exactly 48 bottles of non-alcoholic beer? Fuck you, Black Francis. Eat me, Kim Deal.
I have, in the face of several opportunities presented to me, resisted the impulse to plop down such a staggering sum of cash for a Pixies show in 2004 and 2005. It hasn't been easy. But now, after this unexpected hummous news, it's a slam dunk decision. The Pixies are dead to me.
It would be one thing if the Pixies were honest about their avarice. Perhaps calling this "The Pixies Retirement Fund Tour" would come closer to the truth. That's essentially the approach the Sex Pistols took a few years ago and I resepcted John Lydon for his unapologetic and forthright commercialism. Which was more than you can say for most reunions that hide behind the shady veneer of "We're getting together just for old time's sake!"
But if you were of a certain age about fifteen years ago, the Pixies encompassed a sound and a feeling that was uncompromising, independent, and sui generis. The Pixies demonstrated that goofiness and rage and bitterness and carrying on with a strange optimism could stem from a carefully produced guitar sound that nobody else cutting records back then came close to — a sound that, in fact, Kurt Cobain unapologetically pilfered.
They built up their audience with impressionable listeners like me, who lapped up Surfer Rosa and Doolittle, knowing that what was on these albums was genuine and unadulterated. So in the Pixies' case, it's especially a shame that these days, the Pixies are more about replaying the greatest hits and cashing in, rather than how it used to be: giving a good show and evolving their sound.