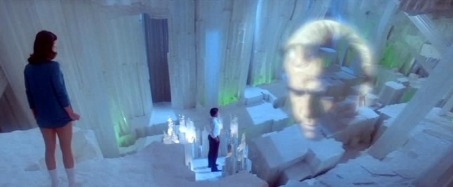 I don't believe Richard Donner's cut of Superman II (recently released on DVD) is necessarily better than the 1981 theatrical cut directed by Richard Lester, but it is still fascinating on its own terms. When Donner helmed the first Superman, he actually shot a good deal of footage for Superman II, much of it (including all of the Lex Luthor scenes) contained within the theatrical version that was subsequently released. Donner was kicked off the project midway through the film because of cost overruns, replaced by Richard Lester. Fans, tantalized by the footage that appeared in various ABC airings of the film in the 1980s, have long hoped for Donner's vision to be reinstated. Warner listened and tracked down some six tons of film, restored all of it, and re-edited Superman II to reflect this what-if scenario.
This cinematic experiment certainly demonstrates what Donner would have effected, had he been left alone to finish the film. But it also indicates that Richard Lester's contributions weren't nearly as bad as Donner makes them out to be. (Donner's commentary track is a veritable shitting contest. But Donner has produced many cinematic dogs himself. Exhibit A: Assassins.)
Donner's version moves faster, with an opening sequence that dovetails Superman II's story into the first film quite nicely. (It is the missile aimed at Hackensack that causes the three supervillains to be released, not the nuclear bomb at the Eiffel Tower. Lester's Eiffel Tower sequence has been removed.) Donner's version takes more chances with the characters, particularly in an exciting early scene where Lois Lane throws herself out the window of the Daily Planet to test whether Clark Kent is actually Superman. Susannah York's Lara has been replaced by Brando's authoritarian Jor-El at the Fortress of Solitude. While these scenes play up the father-son dynamic, Brando is just as stiff as he was in the first film.
Donner's panache for action sequences works well in the first hour, but I found myself missing Lester's light touch, particularly with General Zod and company's appearance on Earth. The two small town cops arguing about the restaurant ("They have a fine selection.") are now one-dimensional characters for Zod, Ursa and Non to fuck with. Lester's humor also worked effectively as the three supervillains let loose a gust of wind just as the people of Metropolis attempted a lynching ("Superman is dead! Let's get him!"). The scenes of cars flying through the air and colliding into each other had a certain gravitas when edited against Lester's slapstick contributions (ice cream flying from a cone onto another's face, the guy still talking on the phone even after the booth has been knocked over).
The musical cues have also been seriously marred. In the Lester cut, when Superman flies into Niagra Falls to save a boy from falling into the waters, he was accompanied by a reprise of John Williams' main theme. The Donner cut has opted for a more diluted theme and it makes Superman's rescue of the boy nowhere nearly as dramatic as it was in the original. (A similar change has been made when Superman rescues the large antenna from falling onto a mother and her stroller.) Also greatly missed is John Williams' menacing series of percussive quintets, which lent Zod's takeover of the planet Houston a sense of dread. I've long considered Williams' contributions to the Superman films to be among his best as a composer, but the Donner cut reveals just how naked the Superman films are without the score: a telling sign of its own.
But perhaps my biggest objection (aside from Donner's bitterness) is that Superman's sacrifice of his powers for Lois Lane feels more solipsistic in Donner's hands. In the Lester cut, Superman sleeps with Lois Lane only after he loses his powers. But in the Donner cut, he gets bedtime action before. While it's nice to see a postcoital Lois Lane observe Superman's conversation with Jor-El dressed only in his shirt, Reeves' conversation with his father (instead of his mother) is now laced with selfish import ("I deserve this!") as opposed to a bona-fide declaration of his love for Lane ("Mother, I love her."). Because of this, one views the diner scene that comes after, in which a powerless Kent is beaten to a pulp by a truck driving bully, in a new light. Clark Kent's request to step outside is now guided more by hubris, rather than a desperate need to figure out where he stands and how to defend himself as a human.
Donner's contributions were certainly essential to the Superman films. His camerawork was better. His action sequences were better. But I suspect he sometimes took Superman too seriously, considering him to be an almost Christ-like figure. I'd argue that Lester understood that Superman II was an entertainment and injected just the right amount of comedy into Superman II, giving it a more humanistic feel. It's regrettable that Lester's equally essential contributions are being pooh-poohed by the fanboys.