Kevin Sampsell recently appeared on The Bat Segundo Show #322. Mr. Sampsell is most recently the author of A Common Pornography.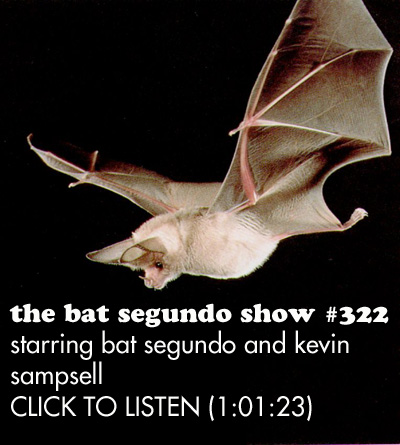 Condition of Mr. Segundo: Airing his dirty laundry.
Guest: Kevin Sampsell
Subjects Discussed: Maintaining an emotional spectrum within the two editions of A Common Pornography, balancing sweet material with darker installments, how the death of Sampsell's father (and subsequent revelations) altered Sampsell's perspective, the great lie of memory, how memory affected chapter length, wrestling, changing people's names, telephone conversations with mysterious legal people, the photo that didn't make it into the book and inappropriate implication, passing on a textual legacy, the pretensions and dangers of writing about one's self in a heroic or self-deprecatory manner, the emotional incongruity of writing about the past in the present, Jonathan Ames, Kevin Keck, the ideal word unit to access the past, on not passing judgment from the present vantage point, mathematical precision within prose, the stigma of counting the number of times you make love with someone, the influence of sports statistics upon consciousness, rash speculations on football players wearing a jersey with the number 63, determining divorce status from gesture, candor without commentary, self-deprecation and snark, arresting opening lines, in which the correspondent (due to the lateness of the hour) hallucinates a list of questions that doesn't actually exist in the book, effective ways to arrange a pornography collection, Pee Chee folders and why some people don't know about them, how to organize manuscripts vs. how to organize porn, debate over whether Mr. Sampsell has remained "normal," the difficulties on reconnecting with people through Facebook, learning about unexpected outside perspectives while chronicling the past, putting it all on the line, and the difficulties of identifying one's self as a writer.
EXCERPT FROM SHOW: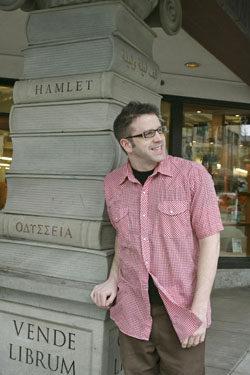 Correspondent: What was it about the radio school instructor's body language that suggested "a few divorces in his past?"
Sampsell: (laughs)
Correspondent: I bring this up because given how your family and your friends judged you — at least based off of my reading of the text; I obviously wasn't there — such as Pam claiming that her little brother had beat you up. Isn't there a certain paradox in ascribing such judgment to others within the text like this? Or do you exonerate yourself from the judgment, because as we've been discussing, you're doing candor without commentary.
Sampsell: Yeah. I mean, I don't think I should say, or we should say, that there is no commentary throughout the book. Because there probably are a few times where there is some understated commentary or maybe some snarky comments. The radio/TV teacher that I had — I totally remember him as being this kind of Marlboro Man kind of guy. And he did have this posture that was kind of slouchy and defeated. And he seemed — I think he was probably like in his fifties or something like that. And he just kind of had this sloppiness to him.
Correspondent: Maybe he was happily married and he just didn't like his job.
Sampsell: Maybe.
Correspondent: I mean, "a few divorces in his life."
Sampsell: Yeah.
Correspondent: That's pretty judgmental, man.
Sampsell: (laughs) Yeah, I don't know. I think as a kid, when you see people like that, I think most — a lot of my teachers, anyway — I remember as being fairly upbeat. Maybe stern. Maybe a little cheery or whatever. And then there are some that just seemed worn out. And I just remember him being this kind of worn out kind of character. I liked him a lot.
Correspondent: But how do you get from worn out to divorce?
Sampsell: (laughs) Well, maybe that's just my perspective.
Correspondent: Aha! There is commentary, I see.
Sampsell: Because there's commentary in other places too. Like the chapter about the prostitute. I mean, there's a number of — I'm sure — snarky comments about her. There's snarky comments about me as well.
Correspondent: Well, let's be clear on this. I mean, are self-deprecatory comments about yourself really snark?
Sampsell: Yeah, I don't know. I'm not sure what you'd call it.
Correspondent: Selfark? I don't know. "Taternuts" begins with a line, "This is how I learned about cunnilingus from a policeman's wife and became a legendary fryer at the same time." Now that's an opening line. It reminded me of Anthony Burgess's Earthly Powers — that famous line. But it invites the reader to plunge further and yet other sections don't quite have that lede. And I'm curious why you felt particularly compelled to grab the reader by the lapels with that particular section.
Sampsell: Oh, I don't know. Yeah, that's kind of interesting. When I write fiction, I am a firm believer that the first sentence should be really strong. And that comes from the Gordon Lish/Gary Lutz/Diane Williams school of writing. Or whatever it is like that. That's what you're supposed to do. Have a really great first line. Build your story sentence by sentence. I don't necessarily do that in this book. But, in fact, a lot of the first lines in this book — a lot of the first lines in the chapters — I think are probably pretty simple.
The Bat Segundo Show #322: Kevin Sampsell (Download MP3)
This text will be replaced