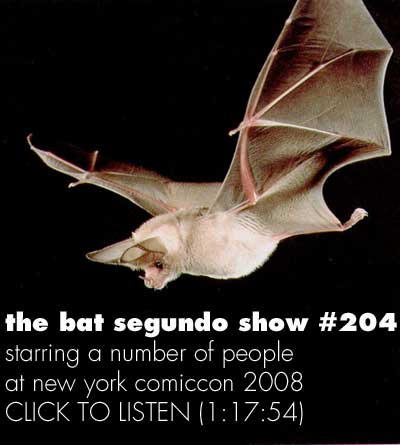 Over the course of the weekend, a number of people were interviewed by Our Young, Roving Correspondents on the floor of New York ComicCon. Thankfully, we have managed to assemble a rather strange collection of interviews into a podcast. We had no idea that we had recorded so much material. Many thanks to Eric Rosenfield for interview assistance and his laconic pal Phil for moral support and a shoulder to cry on. Scroll to the bottom to listen or download the 78 minute MP3!
1. Mike Pellerito — In this somewhat naughty conversation, Archie Comic Publications, Inc. Managing Editor Mike Pellerito offers his candid views on maintaining the purity of the Archie universe.
2. Joe Gonzalez — We venture into Podcast Arena to discuss the appropriate way of covering New York ComicCon with a fellow podcaster.
3. Aaron Goold — One of the folks behind Yo Yo Nation explains why he is a spokesman for Duncan. There is also some speculation on secret yo-yo societies in New York.
4. Jack Ringca — I am unsure what pernicious position Mr. Ringca holds within Duncan, but he seemed to have a few diabolical ideas involving Mr. Goold and conquering the universe with a yo-yo army.
5. Joseph Semling — The purchasing manager of Brian's Toys offers a helpful explanation of the economics behind lightsabers.
6. David Williams — The co-founder of Fanlib insists that he's flying fan fiction writers out to Hollywood. But we learn that this isn't the case at all. He seemed especially convinced that all fans are protected from lawyers.
7. Dan Piraro — The man behind Bizarro explains the precise circumstances that help him generate ideas and reveals how some of his more daring strips end up in Scandinavia.
8. Ross Milhako — Attracted by the risque title, Our Young, Roving Correspondent questions the creator of Dead Dick — Zombie Detective upon the filthy and salacious qualities of his comic's name.
9. Tim Fish — The Boston-based comic book writer behind Cavalcade of Boys explains precisely what he means by "cavalcade" and offers some insights on gay romance comics.
10. Patch — A gentleman who only referred to himself as "Patch" explains how Teddy Scares inverts the nature of the cute and cuddly teddy bear. There is also an ethical debate over whether zombie teddy bears can appeal to an UglyDoll audience. We dutifully pledge, per this interview, to investigate Teddy Scares in five years and determine, per Patch's assured declarations, whether or not Teddy Scares retain their edge.
11. Kim Caltagrione, Mike McLaughlin & Steve Vincent — We talk with the New Jersey underground comics operation, Angry Drunk Grahics, about the fine line between angry and drunk and how Ms. Caltagrione ties this ontological spectrum together. Includes discussion of Mike Diana, the first artist to receive a criminal conviction for obscenity in the United States and who is published by Angry Drunk Graphics, and the Diana-drawn illustration of Jesus with a penis.
12. Brian Phillipson — The co-creator of God the Dyslexic Dog insinuates a forthcoming jihad involving canines. Or at least that's what we're left to conclude from this conversation that somehow manages to include nonoverlapping magisteria and dyslexic fundamentalists.
13. Chris Wozniak — Chris Wozniak insists, despite developments involving Kathy Griffin, that he is the Woz. But even though he has created bitter midgets, the Woz doesn't have any explanation as to why his midgets are bitter.
14. Jeffrey Brown — A mention of Brown's appearance on a Canadian sex program leads into an unexpected delineation between the real Brown vs. the invented Brown. (Partial transcript here.)
15. Kyle Baker — A conversation between Baker and McCloud is unexpectedly interrupted, but segues into issues of artistic control, television, people who don't read comics, thwarted animation deals, families coming back in style, Special Forces, Nat Turner, the Haitian Revolution, mainstream publishers getting into graphic novels, and other assorted topics.
16. Scott McCloud — Scott McCloud reveals a future deal involving a graphic novel in New York, the present state of advocating graphic novels, the Creator's Bill of Rights, and the failure of micropayment systems.

ComicCon 2008 Podcast
[ 1:17:55 ]
Play Now
|
Play in Popup
|
Download